Issue #136 / Mar 2012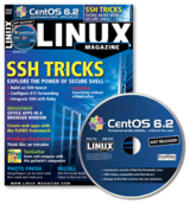 DVD: CentOS 6.2
Issue #136
Enterprise-grade stability – without the cost!...
Letter from the Editor
Street battles rage in the Middle East, and elsewhere around the planet, movements flash and form through the power and immediacy of the information highway. The ability of the Internet to rally political forces and circumvent censorship has been a major theme in recent years.
This month's Linux Magazine DVD brings you the latest release of the Community Enterprise Operating System (CentOS).
AMD Launches New Single-GPU Graphics CardNetrunner 4.0 Dryland AnnouncedGentoo Linux 12.0 ReleasedNetBeans IDE 7.1 Re......
Problem-solving best practices for sys admins
Whether you're the sys admin of a home network or of a company-wide network of dozens or even hundreds of machines, some basic principles of debugging will come in handy.
The sys admin's daily grind: PortSentry
To celebrate 10 years of his column, Charly sets up a sensitive detector that measures the cosmic background radiation of the Internet.
Separating the wheat from the chaff
Attackers impose a high price on your limited resources. We look at some ways to separate the good from the bad.
With the announcement of another export quota, maddog laments the unreadiness of nations who allow themselves to fall prey to national monopolies.
Chronicler Zack Brown reports on the latest news, views, dilemmas, and developments within the Linux kernel community.
Visit Our Shop
Direct Download
Tag Cloud