Issue #140 / Jul 2012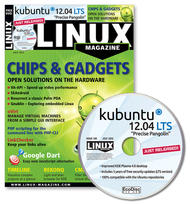 DVD: Kubuntu 12.04 LTS "Precise Pangolin"
Issue #140
This issue's DVD comes with Kubuntu 12.04 LTS....
Editorial
A little over a year ago, I wrote a column about a Nokia memo that appeared a little over a year ago. The famous "Burning Platform" memo made the case for Nokia bailing out of the open source MeeGo project as a last-ditch effort to save the company.
Chips & Gadgets
This month's emphasis is on hardware. We look at video acceleration, smartphone security, and new life for old devices.
This month's DVD
This month's DVD comes with Kubutu 12.04 LTS.
Cloud News
• CloudStack moves toApache
• Red Hat Data Grid 6 beta released
• News Bites
Kubuntu Sponsored
• Blue Systems sponsors Kubuntu
• IBM PowerLinux Solutions
• Spyrus Pocket Drive
Ubuntu News
• Ubuntu 12.04 LTS for desktop launched
• Ubuntu 12.10 flies with Quantal Quetzal
• Coverity 6.0 released
Red Hat Announces OpenShift Origin
OpenMAMA 2.1 Now Available
Tizen Association Releases Larkspur
Yocto Project 1.2 Released
Implementing video acceleration on intel chips with the video Acceleration API
Improve video performance with hardware video-accelerated decoding using the video Acceleration APi.
SEAndroid brings better security to Android devices
The still experimental but promising SEAndroid framework offers SELinux-like mandatory access control for the Android universe.
Give your Palm device a new lease on life with Linux and open source software
Don't despair over your out-dated Palm hardware. Open source software can bring new life to these devices, give you modern functionality, and save you a boatload of money.
Getting to know the Gnublin board
Embedded Linux doesn't have to be rocket science, which the Gnublin board clearly shows. If you want to learn how to read sensors, flip switches, and switch LEDs on ARM Linux, this tiny machine is perfect for your research.
Visit Our Shop
Direct Download
Tag Cloud