Issue #140 / Jul 2012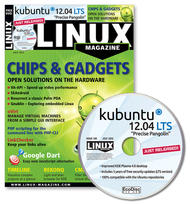 DVD: Kubuntu 12.04 LTS "Precise Pangolin"
Reconnect with Rekonq
Rekonq looks set to replace Konqueror as the standard web browser on KDE, which is reason enough to put the surfer through its paces.
Managing tasks and events with Timeline
Is the conference before or after your publication date? What tasks do you need to complete in what order? Was Jean born before Derek? Was the Atari ST released after the Amiga? Timeline is a program that can give you fast answers to these kinds of question, typically at a glance.
Building a simple digital asset management solution with Glom
Desktop databases are perfect for keeping tabs on miscellaneous data – from links and text snippets, to tasks and invoices – but building databases from scratch can be a daunting proposition, unless you use Glom for the job.
Manage your book collection with the Alexandria collection manager
As your book collection grows, you might lose track of your volumes. Alexandria lets you catalog your tomes quickly and easily without a pesky database server.
USB Promos
Some clever marketing people have started issuing USB drives loaded with their promotional information in lieu of the usual pamphlets and swag.
Linux 2.4 Status
Kernel Insanity at the Highest Levels
Linux Licensing Constraints
Kernel Disassembler
COMMUNITY: NoOps
Divining the future of the network
Mention NoOps, and you're sure to start an argument. But terminology aside, this is a coming trend to which ITs should pay attention.
Visit Our Shop
Direct Download
Tag Cloud