Issue #142 / Sep 2012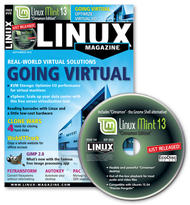 DVD: Linux Mint 13 "Cinnamon Edition"
Issue #142
This month's DVD lets you test the latest release from the popular Linux Mint project. Linux Mint 13 "Maya" is b......
Editorial
Since they print my picture with this column, I have little hope of concealing my age, so I'll just come out and say that I remember Ronald Reagan's first year in office in 1981 – in fact, I was already a young adult at that time and was living in Reagan's home state of California, working my first professional job after college. Reagan became known as "the great communicator" for the hypnotic optimism with which he could render his own point of view. In a speech somewhere around that time, the new president made a comment that was something like "We have come a long way since before we knew we had a problem with racism."
Going Virtual
Your virtualization options continue to expand. This month, we look at two popular solutions. First, we show you how to map your virtual disks to optimize your KVM installation. Then, we examine the ins and outs of virtualization with VMware's free vSphere Hypervisor 5.0.
This month's DVD
This month's DVD lets you test the latest release from the popular Linux Mint project. Linux Mint 13 "Maya" is based on Ubuntu 12.04 "Precise Pangolin" and thus is compatible with the Ubuntu repositories.
Red Hat Addresses Secure Boot
FSF Addresses Secure Boot
Android 4.1 Jelly Bean
Amahi Releases Ubuntu Edition
New Version of UndoDB Released
Black Duck Announces Code Quality Audit
digiKam Releases Version 2.7
More KVM performance thanks to an optimized disk configuration
KVM has many ways to map virtual disks on the host system. The appropriate choice of disk format has an effect not only on the speed of I/O operations but also on snapshots and backups.
Free virtualization with VMware vSphere
The free vSphere Hypervisor 5.0 lets companies enter into professional virtualization without the overhead of a commercial solution. If you decide you need additional enhancements later, you can always upgrade to enhanced VMware solutions.
Automating the desktop
Insert recurring phrases and automate recurring tasks with AutoKey, independently of the application you are using.
Converting filesystems with Fstransform
Fstransform converts a filesystem without formatting the media or deleting any files.
Visit Our Shop
Direct Download
Tag Cloud