Issue #144 / Nov 2012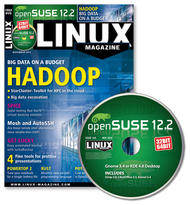 Cover Theme: Hadoop
DVD: openSUSE 12.2
Issue #144
The double-sided DVD attached to this issue comes with 32-and 64-bit versions of the latest release from the openSUSE......
Editorial
Patent law is a very imperfect tool for establishing moral culpability. Whether you favor patents or not, it is important to face the fact that patent law is a construct of the business world. Patents protect opportunities for patent holders and restrict opportunities for others – all for some supposedly greater purpose, we are told, but in any case, none of this ever has the clarity that will allow you to point your finger at a violator as you would at someone who stole your car. So I don't have a lot of faith in patents, but I still have a feeling you'll do better in life if you come up with your own solutions.
Hadoop
Getting into high-performance computing has never been easier. We investigate HPC cloud computing and a popular Big Data platform.
This month's DVD
The double-sided DVD attached to this issue comes with 32- and 64-bit versions of the latest release from the openSUSE project. openSUSE 12.2 continues in the long tradition of SUSE Linux, offering a full-featured system that is ready for the server room yet friendly enough for the desktop.
Android gains market share
VMware Workstation
Perforce on Demand
openSUSE 12.2 released
CUDA 5 rc
Web Foundation index measures world
New Z shell release first since 2004
SpringSource Releases New Tool Suites
Codethink Releases Baserock 1.1
PostgreSQL 9.2 Released
ROSA Announces Enterprise Distribution
HPC in the cloud with StarCluster
Cloud computing has become a viable option for highperformance computing. In this article, we discuss the use case for cloud-based HPC, introduce the StarCluster toolkit, and show how to build a custom machine image for compute nodes.
COVER STORY: Hadoop
Big data excavation with Apache Hadoop
Experience the power of supercomputing and the big data revolution with Apache Hadoop.
Exploring Red Hat's flavor enhancer for virtual desktops
Red Hat peps up performance of multimedia applications on remote desktops with SPICE (Simple Protocol For Independent Computing Environments).
Tools for channeling SSH over an unreliable connection
SSH can make you crazy if the WLAN connection keeps breaking down, the IP address changes, or the data packets trickle over a slow mobile connection. AutoSSH and Mosh offer some features you won't find in ordinary SSH.
Visit Our Shop
Direct Download
Tag Cloud