Issue #147 / Feb 2013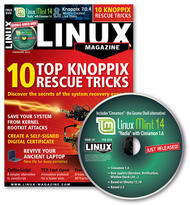 DVD: Linux Mint 14 & Knoppix 7.0.4
Issue #147
Linux Mint 14 "Nadia" Linux Mint is a wildly popular Ubuntu-based desktop Linux with an emphasis on simplic......
Editorial
As these pages go to print, I notice that we have reached issue 147. The number 147 might not seem particularly noteworthy to the rest of the world, but I noticed it. You see, the first issue with my picture on page 3 was issue 48, and if you count by ones from the beginning of the issue 48 cycle to the end of the issue 147 cycle, you get to 100 issues. This number 100 is always good for a milestone moment in our base 10 universe. Celebrating a numeral is not so important on its own, but having these reasons to look back can provide some context for looking ahead into the future – or looking around at the present.
What's inside the February 2013 issue
Use these advanced troubleshooting techniques to save lost Windows and Linux systems.
This month's DVD
Linux Mint 14 "Nadia"
Linux Mint is a wildly popular Ubuntu-based desktop Linux with an emphasis on simplicity. Along with a strong assortment of open source applications and utilities, Mint takes pains to provide proprietary drivers and other helper tools for seamless-as-possible operations. The Mint 14 release features a new Windows Quick-list app for managing windows across multiple workspaces, as well as Alt+Tab window-switcher virtualization and a handy notification tool. Also debuting with this release is the new Nemo file browser, a fork of Gnome's Nautilus file manager based on the Nautilus 3.4 codebase.
OpenShift for data centers and clouds
MariaDB non-profit foundation launched
Fedora 18 to include Mate desktop
Oracle repository for kernel changes
NVidia GeForce R310
Android OS leads the smartphone market
Microsoft contemplating yearly major release cycle
HP writes off US$ 8.8 million on Autonomy
Stallman alleges "surveillance code" in Unity
Red Hat Releases RHEL 6.4 beta and Enterprise Virtualization 3.1
Amazon Announces Redshift Data Warehouse Service
Ceph on SUSE
XtreemFS 1.4
Top 10 Knoppix rescue tricks
The Knoppix Live Linux distro is packed with powerful tools for fixing broken systems. We ask Knoppix creator Klaus Knopper for his favorite Knoppix rescue tricks.
Using SystemRescueCd to recover partition data
If your Linux or Windows system won't boot, or if you're worried that the hard disk is on its last legs, the first thing you need to do is rescue the partition data and copy it to a safe location.
Kernel rootkits and countermeasures
Rootkits allow attackers to take complete control of a computer. We describe the tricks intruders use to gain access to the Linux kernel and provide guidelines on hardening the kernel against such attacks.
Online schema changes with MySQL
Making online schema changes to your database can be tricky, but the right tools can help. We show how to change even the largest tables in an orderly and efficient manner.
Visit Our Shop
Direct Download
Tag Cloud