Issue #147 / Feb 2013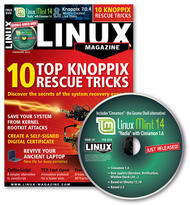 DVD: Linux Mint 14 & Knoppix 7.0.4
Bringing new life to your trusty old laptop
A few years ago, I bought an IBM ThinkPad T41p. It's a great machine that served me well for a long time, although for the last year it mainly sat on the shelf. I had some free time at hand, so I decided to give it one more chance.
CoffeeScript instead of JavaScript
Through the years, many languages have tried to improve or even replace JavaScript, including CoffeeScript, which runs in all JavaScript Runtime Environments and compiles into JavaScript.
An alternative use for GitHub
With its easy-to-use web interface, GitHub can be put to totally different uses than archiving code. For example, Perlmeister Mike Schilli used GitHub to deploy a content management system for simple websites.
The sys admin's daily grind – Di
The more frequently a command is used, the fewer letters it should have, so the use of twokey commands like ls, mv, and df is second nature. We look at a previously little-known representative of this club, di.
Monitoring activities and system processes
Programs rarely reveal what they are doing in the background, but a few clever tools, of interest to both programmers and administrators, monitor this activity and log system functions.
Transferring large files
Various alternatives let you work around pesky size limits when transferring a file from point A to point B.
Klaus Knopper answers your Linux questions
Klaus Knopper is the creator of Knoppix and co-founder of LinuxTag expo. He currently works as a teacher, programmer, and consultant. If you have a configuration problem, or if you just want to learn more about how Linux works, send your questions to: klaus@linux-magazine.com
Back up your systems securely
Creating backups is one thing, making sure they're secure is another. We offer some tips for ensuring the process is as painless as possible.
Network acceleration with TCP Fast Open
With TCP Fast Open, Google introduces a protocol extension, implemented in the Linux kernel, that avoids unnecessary latency in network traffic and promises up to 41 percent acceleration, depending on the application.
Secure email and LibreOffice documents
Using personal, self-signed certificates and digital encryption.
Visit Our Shop
Direct Download
Tag Cloud