Issue #147 / Feb 2013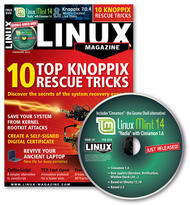 DVD: Linux Mint 14 & Knoppix 7.0.4
Search and search-and-replace in Vim
We show you how to build on the basic functionality of Vim by introducing some useful search commands.
Introduction to QuickNote and Geeknote
Sorting through the array of note-taking tools and their features can be overwhelming. We look at two applications that offer a simple approach.
Geometric construction of self-similar patterns
Gnofract 4D is a different kind of graphics program that conjures up stunning graphics videos based on fractal mathematics.
Zack's Kernel News
Chronicler Zack Brown reports on the latest news, views, dilemmas, and developments within the Linux kernel community.
The software industry and developing countries
A recent report highlights some advantages as well challenges for implementing free software in developing countries.
Keeping your computer safe with Linux
When thinking about ways you could rescue your system with Linux, the thought occurred to me: Why not rescue your life? Because that's what Linux can do for you.
HPC in the cloud with StarCluster
Some changes at Amazon require an update to the StarCluster article.
Visit Our Shop
Direct Download
Tag Cloud