OpenType and HarfBuzz
Hacking OpenType Fonts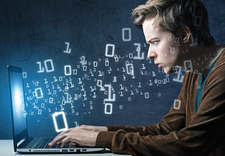 Thanks to OpenType and HarfBuzz, you can now modify fonts like a designer.
Until now, digital fonts have been a static resource. From an application, users can select a font, as well as its size and weight, but no other options have been available to the average user. However, with OpenType [1] established as the dominant format for font files on all operating systems, a new relationship is opening up in which users can modify the display of fonts with the strategic placement of code tags. It's a command-line solution applied to desktop technology.
The OpenType format specifications were first drawn up by Microsoft and Adobe in 1996. However, in 2007, it became an ISO standard and soon became the file format of choice for font designers, including those developing free-licensed fonts. OpenType has a distinct advantage over both Type 1 (Postscript) and TrueType fonts (the main formats in the 1990s), because its Unicode support potentially gives it a full range of accents and other diacritical marks, as well as all the major writing systems – or scripts, as OpenType refers to them. As computing moved away from the English-dominated ASCII standard, increasingly, neither Type 1 nor TrueType could measure up. At the same time, because OpenType is backwardly compatible with both Type 1 and TrueType fonts, the formats can still be used by batch converting them with a script in FontForge, the open source font designer. You can tell an OpenType font by its file extension, usually .otf.
As OpenType became popular, its support in free software was aided by the spread of HarfBuzz [2], which renders a Unicode character into the corresponding glyph in a font. In the early years of the millennium, HarfBuzz became necessary, because font rendering was done by three separate applications; FreeType, Pango, and Qt. This meant that the same font could be displayed differently in different applications. At first, lead developer Behdad Esfahbod released an early version of HarfBuzz – now called Old HarfBuzz – that tried to draw on all three font renderers, but in the end, the complications proved so great that an independent version was written from scratch, becoming the HarfBuzz now used today in Chrome OS, Chrome, Firefox, and KDE. Other projects, such a Gimp, Inkscape, Krita, and Scribus are now in the process of switching to HarfBuzz as well.
[...]
Use Express-Checkout link below to read the full article (PDF).
comments powered by

Disqus
Visit Our Shop
Direct Download
Read full article as PDF: