Keep watch over your server system with Webmin
Conclusion
Webmin might be visually outdated, but even in 2016, it is a really useful tool for both expert and aspiring system administrators (Figure 7). Experienced users will save lots of time thanks to Webmin, and beginners will discover that Webmin is a useful tool for learning about Linux configuration. You'll find that Webmin has many more options than I can describe in this article. If you want further information, look at the Webmin extensions or spinoffs, called Usermin, Virtualmin, and Cloudmin.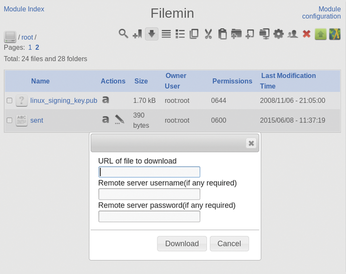 Figure 7: The Webmin file manager is no match for software like Dolphin or Nautilus, but it has all you need to move, rename, upload, and download files, even remotely.
Usermin creates a web-based interface in which ordinary users can read their email in a browser, change their password, and perform other simple tasks autonomously. Virtualmin gives Webmin the ability to create and manage multiple, semi-permanent virtual hosts on the same computer: Each host will also have its own copy of Webmin with a separate administrator account and no access at all to any other part of the system.
Cloudmin is similar to Virtualmin, but, as you can guess from its name, it is optimized for on-demand cloud computing. A Cloudmin admin can quickly create, resize, reconfigure, and restart on demand many independent clouds, each with its own parameters.
comments powered by

Disqus
Visit Our Shop
Direct Download
Read full article as PDF: