Managing servers with the Cockpit admin tool
From the Cockpit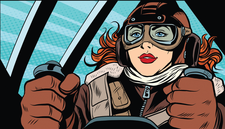 Meet Cockpit, an easy management tool that lets you watch your Linux servers from a convenient, web-based interface.
Wouldn't it be wonderful if you could configure and control all your Linux systems from one friendly interface? More than twenty years ago, the answer to this wish was a project called Linuxconf [1], which stopped development in 2005 and is hardly missed. Linuxconf tried to do too much at once, too often in ways that clashed with the default management tools of most distributions. After Linuxconf came Webmin [2], which is still actively developed and useful; however, in my opinion, Webmin has a dated interface, and you need relatively good knowledge of Linux to use it properly.
The quest for a better admin tool led to the start of the Cockpit project [3] a few years ago. Cockpit is a free and open source, web-based interface for managing Linux systems. The official goals of the Cockpit project are to make "Linux servers usable by non-expert admins" and to make "complex Linux features discoverable" [4]. Cockpit is supported by Red Hat, but you can run it on any distribution. This tutorial explains how Cockpit works and how and why it might help you with simplifying and consolidating your Linux management tasks.
Advantages and Limits
The first thing to know about Cockpit is that it is not a configuration management system like Ansible [5] or Puppet [6]. You cannot tell Cockpit "I want all my Linux boxes to look like this" and then take a stroll while it executes your wishes. This limitation is also its strength, because Cockpit is deliberately light and therefore easy to use.
[...]
Use Express-Checkout link below to read the full article (PDF).
comments powered by

Disqus
Visit Our Shop
Direct Download
Read full article as PDF: