FOSSPicks
Browser firewall
uMatrix
Web browser plugins fall outside of FOSSPicks' scope, but uMatrix requires a special mention. This is because, with a single stroke, it replaces a variety of other add-ons and especially those that block scripts and website advertising. It's particularly important now that an increasing number of sites aggressively block access when you're running an ad blocker, but also because you can never be sure exactly what your blocker is blocking and what it's not. uMatrix solves this problem in the same way a firewall solves the problem of insecure services running on your network. It gives you complete control over which elements of a website are downloaded and which are blocked. This power obviously comes with the cost of complexity, but the plugin is so well-designed that it doesn't feel like a burden.
When installed, on either Chrome, Chromium, or Firefox, a click of the toolbar button shows a matrix of all the connections a web page is attempting to make. Columns are for type (including cookies, CSS, images, scripts, and frames), while rows show the source of these types. Cells are colored green to signify which data gets through and red to show which data from which site is currently blocked. Clicking on a row or column header, or a cell, toggles that data being enabled, blocked, or filtered through a white or blacklist. Opening the configuration option reveals more options, including tabs for your own host files and rules. The rules, in particular, are useful because you can find third-party lists hosted online that will do useful things like blocking tracking on Slack, Facebook, and YouTube while still letting through the functionality of each site. This all makes uMatrix sound more complicated than it really is, because it's actually very straightforward and completely mind-opening.
Project Website
https://github.com/gorhill/uMatrix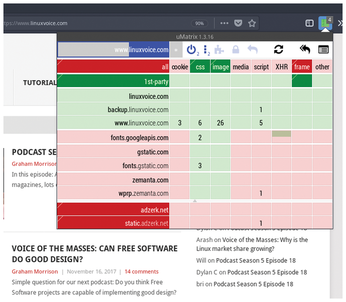 uMatrix's developer is also behind the popular ad blocker, uBlock Origin.
File finder
comments powered by

Disqus
Visit Our Shop
Direct Download
Read full article as PDF: