FOSSPicks
Twitter client
Cawbird
Despite all the fear and loathing on social media, especially Twitter, it can still be an informative and insightful platform, especially if you take care to only follow people who interest you. This is particularly true of open source and free software luminaries, many of whom are still happy to share their wisdom in 280 characters or less. The web interface to Twitter is also perfectly acceptable, such as its advanced TweetDeck web UI for the multicolumn view required by power users, but it's always good to see a new native client for the Linux desktop being released. Cawbird is a new client, but it's not an entirely new application. That's because it's a fork of the already well-established Corebird, which fell victim to Twitter removing its User Stream API and replacing it with the new Accounts Activity API. Cawbird forked and successfully made this transition, bringing a slick and modern GTK+ native Twitter client to your Linux desktop.
Cawbird behaves much like any other Twitter client. Its use of Gnome means it has very little window decoration and very few configuration options, although you can change the avatars from their default squares to a circle. It also feels more quick and responsive than either of the web UIs we mentioned, and this means you can fly around your timeline and conversations much more effectively than with a web browser. You can also create lists, web filters, and block lists from the icon tabs that appear at the top of the window. While it would be great to see multicolumn support, this is a rare feature for a desktop client. While we're wishing for features, we'd love to see a dark mode, too. Fortunately, there is excellent spellchecking and even emoji support when you do decide to tweet these requests to the developers.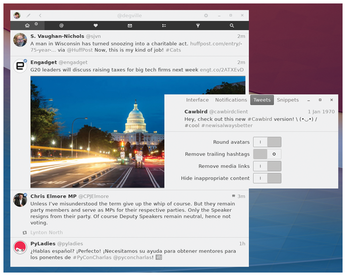 Until Mastodon can take over the world, Twitter still has its uses.
Project Website
https://github.com/IBBoard/cawbird
Procedural sequencer
comments powered by

Disqus
Visit Our Shop
Direct Download
Read full article as PDF: