Tuxedo InfinityBook S 14 v5
Slimline
Are you in the market for a slim, light, and power-packed laptop? We test an upgradeable machine from Tuxedo.
Some Windows and macOS fans joke that Linux users have no need for svelte, lightweight, and powerful laptops. After all, we like taking things apart and poking around inside, right? A typical Linux laptop should be a 3kg beast with replaceable everything, two parallel ports (ever tried PLIP networking?), and five hard drive bays to store all of our favorite distros. And it doesn't need a fast chip, because we can just run Puppy Linux on it.
Except, of course, that is far from the truth. Sure, we Linux users like to get the most out of our hardware and value upgradeability and longevity over shaving off every single millimeter where possible. But we shouldn't have to compromise. Why can't we have a slim, powerful, and upgradeable laptop that also runs the very latest Linux distros?
This is what Tuxedo aims to offer with the InfinityBook S 14 v5 (Figure 1). Tuxedo Computers GmbH, based in Augsburg, Germany, has been in the Linux hardware business for over 15 years. This particular model – the InfinityBook S 14 v5 – is "made in China, Assembled in Germany," and the company describes it as lightweight, slim, elegant and very persistent. It's available in various configurations; the one we tested for this review costs EUR1,329 (see Table 1).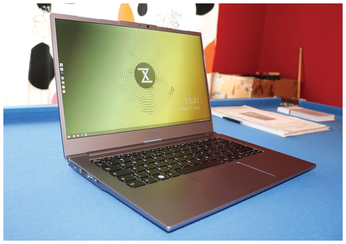 Figure 1: Weighing just 1.1kg and measuring 1.65cm deep, the InfinityBook is especially light and slim.
| | |
| --- | --- |
| CPU | Intel i7-10510U @ 1.8GHz |
| GPU | Intel UHD Graphics 620 |
| RAM | 8GB DDR4 2666MHz |
| Screen | 14" 1920x1080 matte |
| Storage | 500GB Samsung 970 EVO Plus SSD |
| Networking | Intel AX200, WiFi 6 and Bluetooth 5.1 |
| Ports | 3x USB, HDMI, MicroSD, head/microphone, Kensington |
| Size | 322x217x16.5mm |
| Weight | 1.1kg (2.4lb) |
| Price | EUR1,329 |
Design, Dimensions, and Ports
The first thing you notice with the InfinityBook is how light it is. For a machine with a 14-inch display, you expect a bit more heft, but at 1.1kg (2.4lb) it feels fantastically light and portable. Indeed, it's so light that when it's flat on a table, you can't fully open the screen by solely lifting it with a finger – you need to prise the machine apart.
Still, the hinge feels sturdy, as does the magnesium chassis, with virtually no flexing on the base. The screen permits a bit more bending, but it is still solid. Overall, the InfinityBook's build quality and finish is excellent – and there are no annoying stickers on the palmrests to remove.
Size-wise, the laptop is 322x217x16.5mm. When placed on a flat surface, taking into account the rubber feet on the underside, it rises 2cm above the surface at its thickest point. There are thinner ultrabooks out there, but the InfinityBook is still decently slim.
The left and right sides of the laptop house various ports: a USB 3.1 Gen 1 (type A), a USB 3.1 Gen 2 (type A), a USB 3.1 Gen 2 (type C), an HDMI 1.4b with HDCP (max. 2560x1600@60Hz; 3840x2160@30Hz), a 2-in-1 audio port (headphones/microphone), a microSD card reader, and a Kensington lock port. There's a physical power switch on the right.
But what about the aforementioned maintainability and upgradeability? The InfinityBook does pretty well here: Remove 12 regular crosshead screws from the panel on the underside of the screen, and you get access to the replaceable Samsung RAM, replaceable Samsung 970 EVO Plus SSD, and the replaceable (albeit with soldered cables) Intel AX200 WiFi card (Figure 2). With the RAM being expandable up to 40GB, the machine should be usable for many years down the line.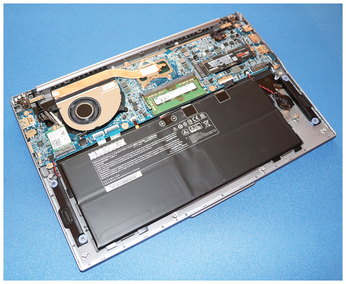 Figure 2: Pop off the back by removing a few screws, and you can swap out the RAM, SSD, and network card.
Screen, Keyboard, and Trackpad
Let's turn to the usability aspects now. The 14-inch 1920x1080 matte/non-glare screen provides a luminance of 350 nits and a contrast ratio of 1200:1. At its very brightest, it still looks a bit dim compared to a 500-nits display on other high-end machines (such as a MacBook Pro that we used as a comparison). But for most use cases, this isn't an issue.
Meanwhile, the InfinityBook's chiclet keyboard has decent travel and feels solid and satisfying to type on, without generating much noise. We'd prefer a bit less space between the individual keys. On our review unit, we noticed a glitch: duplicated pipe-and-backslash keys, one on the right (next to the Enter key) and one beside the left Shift key. The whole keyboard is supported by two levels of back lighting (enabled using Fn+Space). And there's a special Tux key – not just a sticker over a Windows logo!
Underneath lies a spacious and responsive 10.4x6.4cm trackpad, in "diving board" style. In other words, it's easier to click on the bottom parts of the pad than on the top. Clicking is rather loud, however. Even if you opt for the light tap approach, just patting your fingertip on the pad rather than depressing to generate a mechanical click, it produces a slight vibration and some noise – especially at the bottom of the pad. In terms of hardware, this was our only disappointment with the machine, which is otherwise superb. In a busy office or home, it's not a huge deal. However, in quiet environments, the trackpad noises can be quite distracting.
Stereo speakers are mounted on the underside, towards the front. They generate an adequate amount of volume at their max, but are lacking in bass. You wouldn't want to use it to watch concert streams, but, for casual video watching or gaming, it's good enough. Above the screen is a 1.0 megapixel webcam (attached to a white LED that shines when it's enabled), accompanied by an IR camera.
Performance and Battery
As mentioned earlier, the laptop is available in several configurations – our review unit shipped with a quad-core Intel Core i7-10510U chip from the "Comet Lake" family, running at 1.8GHz, with 8MB cache. This is backed by 8GB of DDR4 2666MHz RAM. Communication is provided by an Intel AX200 chip, with dual-band WiFi 6 and Bluetooth 5.1.
In our test, we could watch 1080p 60fps YouTube videos without the InfinityBook breaking a sweat – the fan didn't ramp up. With some other high loads, the fan noise was noticeable, but not annoying. We found that the fan changed speeds quite often though, adapting to the loads, which always caught our attention. A smoother transition between fan speeds would be preferable.
Airflow is handled entirely through the hinge area, which is a setup we really like; you can use it on a bed or sofa without worrying about blocking vents on the underside and triggering heating problems. The laptop gets moderately hot under a high load, but never unpleasant to the touch.
In terms of battery, the InfinityBook ships with an integrated 73Wh polymer smart lithium-ion battery. Tuxedo claims a whopping 24 hours of battery life, albeit when the machine is left idle with minimum screen brightness – and we can confirm that. To recreate a more real-world usage scenario, however, we tested playing 720p YouTube videos with medium brightness and achieved almost 14 hours. When suspended, the laptop loses around one percent of battery every hour.
The laptop's charger is a slim 10x5x1.5cm mini-brick, which brings the battery back up to 100 percent in 2 hours and 15 minutes. The battery gets quite hot during charging, though.
comments powered by

Disqus
---
Support Our Work
Linux Magazine content is made possible with support from readers like you. Please consider contributing when you've found an article to be beneficial.
---