The Ubuntu of Arch Distros
Distro Walk – Manjaro Linux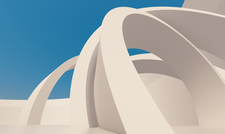 Standing on the shoulders of Arch Linux, Manjaro offers simplicity and stability.
Occasionally, a derivative distribution comes to rival the original. These days, for example, Ubuntu and Linux Mint are as popular as Debian. Likewise, for the last six years, Manjaro [1] has consistently eclipsed the popularity of Arch Linux upon which it is based. In fact, by combining the simplicity and rolling release structure of Arch Linux with the organization of Debian, Manjaro has become one of the leading Linux distributions of any origin. Recently, Lisa Singer answered my request for more details on behalf of the Manjaro corporate management team.
Manjaro began as a passion project of three friends from Munich: Roland Singer, Guillaume Benoit, and Philip Müller. First announced on the Arch Linux Forums, primarily as an installer in 2011, it immediately went dark as the three friends created the distro's base tools. The first general release came in September 2015, with official versions running Xfce, KDE, and Gnome as desktops. Over the years, unofficial community editions running Awesome, bspwm, Budgie, Cinnamon, Deepin, i3, LXDE, LXQt, MATE, and Openbox have also been released.
While going in its own direction, Manjaro maintains close relationships with Arch and Arch-based distributions. Most of its packages originate in Arch. In addition, most other Arch-based distributions use the Calamares installer, "which is mostly based on our original graphical installer," according to Singer. "But it got rewritten as an install framework. Before that, we used Cnichi from Antergos and kept in touch with its developers." Today, Manjaro's developers continue to work with their counterparts at ArcoLinux, EndeavourOS, and KaOs to develop the Calamares installer (Figure 1).
[...]
Use Express-Checkout link below to read the full article (PDF).
comments powered by

Disqus
Visit Our Shop
Direct Download
Read full article as PDF: