Issue #245 / Apr 2021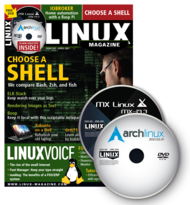 Cover Theme: Choose a Shell
DVD: Arch Linux 2021.02.01 and MX Linux mx-19.3
Download this issue as a PDF:
100 pages
Price $12.99

You're never stuck with the same old command shell – unless you want to be. This month we review some of the leading alternatives. Also inside:
Boop – this scriptable digital notepad lets you keep your conversions local.
Converting Images to Text – tricky tools for text as a medium for your art.
Check out MakerSpace for a look at building a minimal Raspberry Pi OS from source, and turn to Linux Voice for a story on the new (and old) protocols that just might save the Internet.
* Google Play Magazines available in AUS, CA, FR, DE, IT, UK, USA
Visit Our Shop
Direct Download
Buy this issue as a PDF
Digital Issue: Price $12.99

(incl. VAT)