FOSSPicks
novelWriter
It's true that many people want to write a novel. And that many people have written novels, and that many more novels are started but never finished. None of this is a bad thing. Even published novels seldom make their authors any real money. For most people, the whole enterprise of novel writing is best described as a labor of love. And there's nothing wrong with that either. Planning and writing a novel is a fun and a valuable experience that can vastly improve your writing ability and deepen your appreciation of the written word. One thing that can help hugely with motivation and with the writing process itself is to use an application that can assist you with the more mundane aspects of novel writing – managing large numbers of notes on character and location descriptions, story ideas, narrative arcs, and the plethora of other junk that follows a brain dump.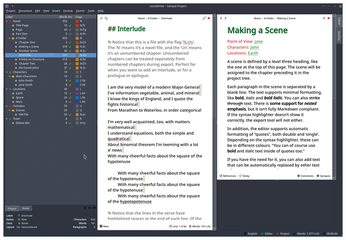 NovelWriter is a great tool for organizing your thoughts, locations, and character descriptions while also writing your story.
Alongside Emacs modes and Vim plugins, there are a handful of applications that try to help you manage the more arduous aspects of writing a novel so you can focus on the fun stuff. Scrivener is the best known, but as we mentioned awhile back, the Linux build has not been updated in some time and the application has become proprietary. Which is why novelWriter has become such an important project. It's an open source, cross-platform "integrated development environment" for writers that can make the difference between whether writing becomes part of your daily process or ends up being just another failed commitment. At its core, as with Scrivener and even the macOS darling Ulysses, novelWriter is a glorified file manager. Instead of files and folders, you have documents written in Markdown split into chapters, characters, locations, and notes. These are shown in a project overview pane on the left, which can be tabbed between this Project view and a Novel view. The Novel view is an expandable structural overview of headings within your book, ordered across Markdown documents using a global heading and subheading syntax. Level one headings signify a book title, level two the start of a new chapter, and level three the beginning of a scene. Level four headings can be used internally to separate sections. This is a brilliant feature, because it naturally maps out your writing and assists with organization. If you feel something is in the wrong place, you simply edit the heading Markdown, and you can even do this using the integrated Markdown editor.
Like many Markdown editors, an optional pane on the right can be opened to show a preview of the formatted text or another document entirely, helpfully colored to show headings and links to which characters and locations are involved. You can even enable a distraction-free mode so you can focus on your writing, or the structure of your documentation, and there are flexible color schemes to match your preferred working environment. This meta information is entered into the documentation using @ symbols to link to and reference tags in other documents that might expand on a character or location, regardless of whether you use them in the final text. You can also add synopsis: to write an overview that appears in the Novel view and % for unrendered comments. It's a clean and simple system that works well, especially in the early stages of writing, and the entire project can be rendered as a fully functional set of HTML files, which can easily be edited into something like an ePub. The entire application works brilliantly and can genuinely help with both the organization of a novel and the motivation required to get you writing.
Project Website
https://github.com/vkbo/novelWriter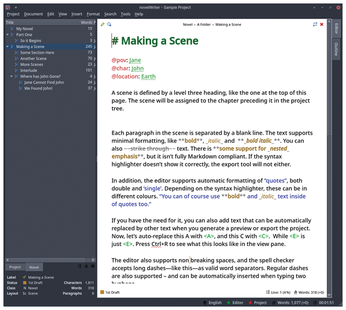 At the heart of the application is an excellent text editor that even includes a distraction-free editing mode.
Real-time strategy
Augustus
As more and more games are released, and our backlogs take longer and longer to be played, it's become clear that classic games will remain classics, regardless of their era. These are games that can't be improved even with the advanced hardware many of us have at our disposal. Examples of these classic titles include M.U.L.E., Syndicate, Monkey Island, Day of the Tentacle, Frontier: Elite II, System Shock 2, and Caesar III. The last title is an example of isometric city building and resource management that's yet to be bested in the 20 years since its release. The game itself tracks the heyday of the Roman Empire starting in 340 BC and ending four or five hundred years later, depending on your skill. You start off creating housing plots and by providing utilities for your citizens. There are all types of products, educational establishments, religions, and health services, tied into your road and commerce networks, taxes, and wages. Success means building a metropolis that will stand the test of time. Or at least until the hoards of Goths ravage the empire.
The trouble with games like these, of course, is playing them on modern hardware. Fortunately, there are two brilliant projects that will help you play Caesar III on modern hardware, and even your phone. You will still need access to the original data files, but fortunately the game is still available on GOG and the executable will extract simply using Wine. The first modern interpretation is Julius, which is a faithful recreation of the original game that will even load and save your original games. But the second is Augustus, an incompatible fork of Julius with long-wanted features such as roadblocks, zoom controls, warehouse storage, and a global labor pool. We've already wasted hours playing it, proving that these old classics are just as addictive today as they were a generation ago, and you can now play them anywhere.
Project Website
https://github.com/Keriew/augustus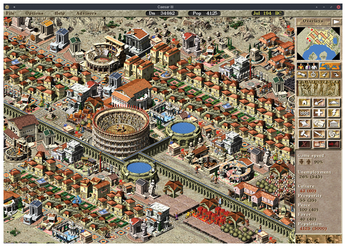 There aren't many real-time strategy games that will let you recreate the Forum and grow wine grapes!
comments powered by

Disqus
Visit Our Shop
Direct Download
Read full article as PDF: