Clementine
A New Music Player in Debian 10
By
Transitioning from Amarok to Clementine in Debian 10 is relatively painless, thanks to Clementine's straightforward interface and improved features.
When I upgraded to Debian 10 a few months ago, I discovered that Clementine had replaced Amarok without asking me. Since I have used Amarok as my music player for the better part of the decade, I was annoyed, to say the least. Over the years, I'd become used to Amarok, and seeing it vanish without a warning was disquieting.
Still, the replacement made sense. Amarok development has slowed as the project struggles to produce a version for Qt 5 and KDE Frameworks 5. The last release was 20 months ago, and people are asking if it is still an active project. Under these circumstances, Clementine is an obvious replacement. For all my grumbling, I had to admit that the transition was smooth. In fact, except for a few rough edges, Clementine is an improvement over Amarok, with a more traditional arrangement of features, and, often, better performance. As a result, the transition was as painless as could reasonably be expected.
The Interface
Amarok's best-known -- if not most notorious – quirk is the default placement of the context pane, which displayed lyrics and other information about the current track, in the middle of the window (Figure 1). That placement meant that tracks had to be dragged from the left-hand pane across the context pane to the playlist in the right-hand pane. Sensibly, Clementine does away with this awkward arrangement (Figure 2). Some of the context information is moved to the left-hand sidebar. Little-used context, such as tours by the current artist, is no longer available at all, although few users are likely to miss the omissions. Similarly, the artist and track title remain on the bottom left, instead of just flashing for a moment when the track changes, as happens in Amarok. Beside the artist's name and the track title, the album cover is displayed if you have used Tools | Cover Manager to search for it (Figure 3). All of Amarok's most useful tools are still available, but just rearranged more conveniently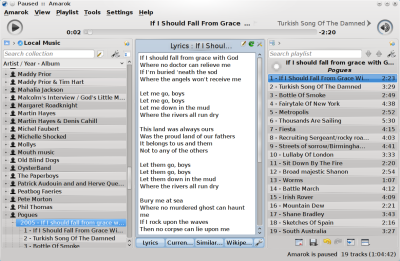 Figure 1: Amarok's context pane in the center of the window is awkward when creating playlists.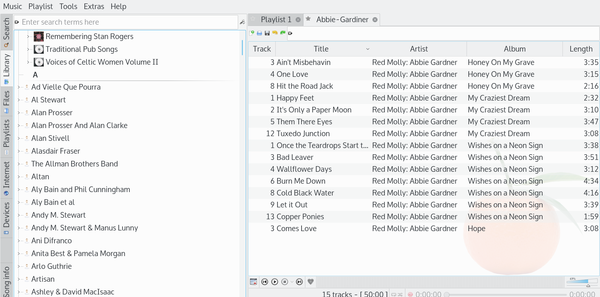 Figure 2: Clementine moves context info to the sidebar, simplifying the layout.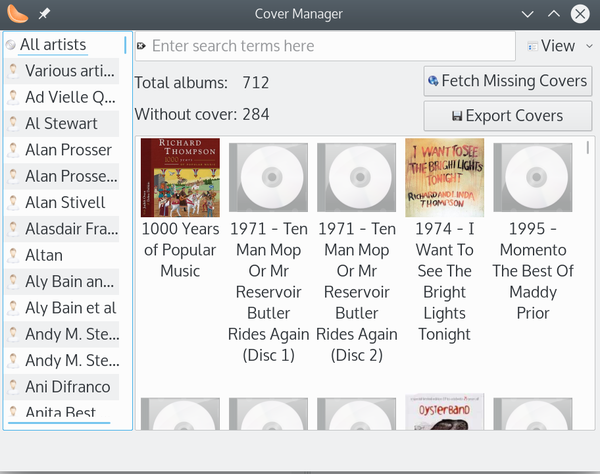 Figure 3: The cover manager adds an extra touch to listening to music with Clementine.
Clementine has improved the interface by putting all the main features, from accessing the local library to streaming services, on a sidebar on the left. This sidebar has several options, although the most legible, the plain toolbar, is not the default. Still, no matter what the appearance, Clementine's sidebar goes one better than Amarok by adding a file manager to the tool collection. However, one change that is not an improvement is the song info tool. To get lyrics and other information, users must click on a link and go to their web browser. There, instead of offering and displaying a best guess, like Amarok does, Clementine offers a range of possibilities, which are often so lengthy a list that, by the time you find the right entry, the track could easily have finished. Admittedly, Amarok's best guess could occasionally be hilariously wrong, but it was quicker and displayed results in Amarok's own window.
Another interface quirk that Clementine does not improve upon is Amarok's insistence that, unless File | Quit is selected, it minimizes to the notification bar. I have always wondered: Why isn't shutting down the window (no matter how you close the window) the default behavior and minimizing a deliberate choice? I also don't see much reason for the mood bar, whose colors supposedly change to reflect the nature of the current song. Fortunately, though, the mood bar can be turned off in Tools | Preferences | Appearance.
Still, although some of the tools are less than optional, on the whole, Clementine preserves Amarok's tradition of attempting to digitally reproduce the experience of a physical album -- an effort that few other music players do as well, or at all. I especially like Clementine's tabbed playlists, which mean that selections can be queued up like a stack of LPs or CDs, with only a click required to change them.
Setting Up Clementine
Clementine caters to several different types of users. If you are listening to local files, you can set the hard drive directories to watch for new files in Tools | Preferences | Music Library (Figure 4). Those with large music collections will be relieved to know that Clementine scans files at least three times faster than Amarok, so choosing to rescan at each bootup is not nearly as annoying. Another improvement is that the Music Library groups tracks using alphabetical delimiters, making scanning much easier if you happen to have thousands of tracks. Users can also rip CDs directly from within Clementine, although the interface has fewer choices than K3b.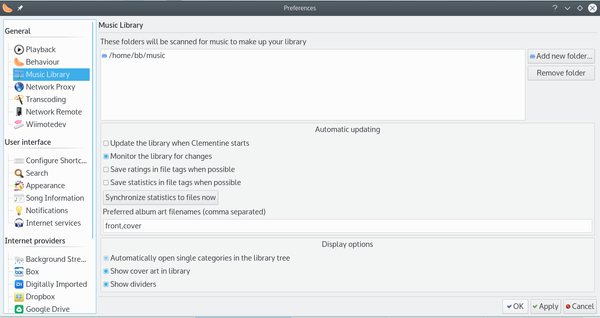 Figure 4: One way to use Clementine is to play local files.
As for playlists, they have their own view on the sidebar. Playlists are created by saving a temporary playlist on the right side of the window as a separate file. Once loaded, a playlist acts exactly the same as a temporary list created by dragging selections on the fly.
Should you prefer streaming services, you can set the ones to display on the sidebar from Tools | Preferences | User interface | Internet services (Figure 5). By default, 18 services are listed, including several cloud storage services like Google Drive, and users can edit the list or add their own items. Similarly, the list of Internet providers in Preferences can be used to set up podcasts. You can even set up Clementine to scan for new episodes of listed podcasts or connect Clementine to use with gPodder. To listen or interact with a portable music player, plug it into the computer, and open it from Devices on the Clementine sidebar. Each source, of course, must be configured separately for use.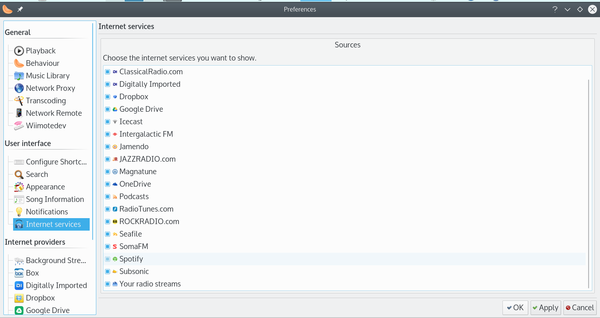 Figure 5: Clementine also supports streaming services, podcasts, and cloud storage.
No matter how users interact with Clementine, they may also want to customize other aspects in Preferences, such as keyboard shortcuts for repeating a track or rating it. Although Clementine's default color scheme is unassuming, users can also create their own. Elsewhere in the menu, users can choose to display covers using Tools | Cover Art or adjust sound quality with Tools | Equalizer. Users might also consult the project website for information about how to use an Android phone as a remote control or about extras to further enhance Clementine.
Another Completist App
KDE and Plasma have a history of completist applications -- apps that offer every conceivable feature for a general use case. Such apps include digiKam, K3b, and, in the past, Amarok. After being around for a decade, Clementine deserves to be added to the list. Not only does it offer a straightforward interface without eccentricities, but its features include almost everything that is needed to work with sound. Even small touches, such as a slider bar for volume -- as opposed to Amarok's hard-to-click circular control -- provide a mostly trouble-free experience.
There are elements that Clementine could improve, or at least offer more choice, but I have long since gotten over the shock of Debian 10 foisting it on me unasked. Listening to music daily, the way that I do, I can hardly imagine a more suitable application for music, except in the unlikely event that I design one for myself.
comments powered by

Disqus
---
Support Our Work
Linux Magazine content is made possible with support from readers like you. Please consider contributing when you've found an article to be beneficial.
---