Issue #239 / Oct 2020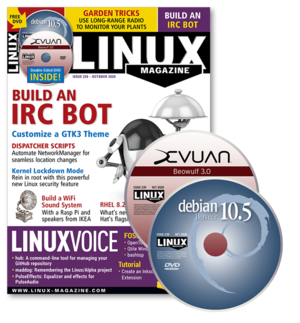 Approximate on sale dates:
UK/Europe: Sep 05
USA/Canada: Oct 02
Australia: Nov 02
Highlights:
IRC bots do the essential work of coordinating and forwarding chat messages on the Internet. This month we show you how to build your own custom bot – and we give you an inside look at how to work directly with IRC. Also in this month's issue:
• Dispatcher Scripts – NetworkManager lets you build scripts to adapt your configuration automatically when you move to a different location.
• Customizing GTK3 Themes – The GTK3 toolkit is the foundation for Gnome and many desktop applications. Find out how to create a custom GTK3 theme.
Learn about distributed weather monitoring in MakerSpace, and turn to LinuxVoice for a tutorial on creating an Inkscape extension.
On August 11, Mozilla CEO Mitchell Baker announced a "significant restructuring" of the Mozilla Corporation. Mozilla is best known for its flagship product, the Firefox web browser. The restructuring is said to include significant staff reductions – the second layoffs of the year.
Debian 10.5 and Devuan 3.0
In the news: LibreOffice 7 Now Available; Microsoft Brings Procmon to Linux; New KDE Slimbook Available; PinePhone Now Offers a Convergence Package; Flutter Is Coming to Linux; and SUSE Rolls Out Service Pack 2 for SLE
Chronicler Zack Brown reports cleaning up build warnings, improving (?) kernel code generation, and working around missing future compiler features.
Debian derivatives
Debian's popularity extends beyond its distribution to the numerous derivatives it has spawned. More than a rebranded version of Debian, these derivatives add their own unique customizations. Here are a few we find interesting.
New features in Red Hat Enterprise Linux 8.2
RHEL 8.2 comes with many new features, ranging from the kernel, through security and networking, to the desktop.
Writing IRC bots with Perl's BasicBot
Writing an IRC chat bot does not have to be difficult. We'll show you how to create your own custom IRC bot using the Perl BasicBot module.
Automate network configurations with dispatcher scripts
Use dispatcher scripts to mount a different network drive depending on the location or automatically start a VPN connection without lifting a finger.
Customize your own GTK3 themes using CSS
We'll show you what a GTK3 theme is made of and how you can customize it to match your tastes.
Create a bootable USB stick with terminal UI display
A Go program writes a downloaded ISO file to a bootable USB stick. To prevent it from accidentally overwriting the hard disk, Mike Schilli provides it with a user interface and security checks.
Securing the Linux kernel with lockdown mode
Lockdown mode makes your Linux system more secure and even prevents root users from modifying the kernel.
Search for processes by start time
How do you find a process running on a Linux system by start time? The question sounds trivial, but the answer is trickier than it first appears.
The sys admin's daily grind: pwquality
Regular password changes are a thing of the past: Strong passwords for each individual service provide more protection. Charly pimped his Ubuntu accordingly with a suitable PAM module.
Distributed weather monitoring in gardens
Place long-range wireless sensors in a garden and keep track of ambient conditions with gauges and time-based graphs.
Open source Symfonisk WiFi speaker
Build open software, open hardware smart WiFi speakers for the home with the Sonos and Ikea Symfonisk.
Old Friends and Future Programmers
To build the future of FOSS, we need to focus on communicating its value – especially to young people.
This month in Linux Voice.
GitHub from the command line with hub
The handy hub command-line tool lets you manage your GitHub repository from a terminal window, which can make it easier to automate repetitive tasks.
PulseEffects integrates equalizers and effects into PulseAudio
A wildly flashing equalizer once was part of the basic equipment of every decent stereo system. PulseEffects upgrades the PulseAudio server to include these slide controls – and offers even more.
Graham looks at OpenToonz, Qtile, SageMath, starcli, Fermentrack, Mindustry, and much more.
Write your own extensions for Inkscape
Inkscape's extensions add many useful features. Here's how to write your own.
Issue 241/2020
Buy this issue as a PDF
Digital Issue: Price $12.99

(incl. VAT)