Issue #258 / May 2022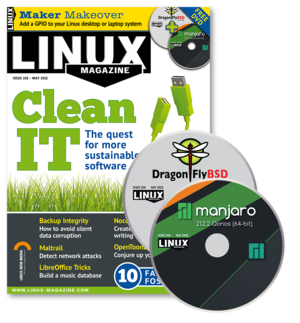 Approximate on sale dates:
UK/Europe: Apr 02
USA/Canada: Apr 29
Australia: May 30
Highlights:
Most people know you can save energy by changing to more efficient light bulbs, but did you know you can save energy with more efficient software? This month we examine the ongoing efforts to bring sustainability to the IT industry.
Better Angels and Better Mining
We're told that modern war will include the elements of cyber war, and now, as war rages in Europe, we look to our networks with renewed vigilance. In this context, the news of a stolen NVIDIA private key seems especially alarming.
Manjaro 21.2 Qonos and DragonFly BSD 6.2.1
In the news: Linux Mint Dropping Blueberry Bluetooth Configuration Tool; Fedora 36 Beta Now Has a Release Date; AV Linux MX-21 Released for All Your Audio/Video Production Needs; Slax Proves You Can't Keep a Good Linux Distribution Down; Dirty Pipe Might Be the Most Severe Vulnerability to Hit Linux in Years; and A Decades-Old Linux Backdoor Has Been Discovered.
This month in Kernel News: Git Merge "Simplification" Advice; Loading Modules from Containers; Git Tree Synchronicity; and The New "No New Warnings" Warning.
Finding a path to energy-efficient software
Sustainability studies for the IT industry often ignore the contributions of software. This article explores what developers and admins can do to create and maintain more energy-efficient systems.
Assessing the environmental impact of software
Germany created Blue Angel, the world's first eco-label for software, back in 2000. The methodology behind Blue Angel could serve as a model for other countries as governments turn their attention to the environmental impact of software.
Assessing the environmental impact of crypto mining
With climate change wreaking havoc across the planet, we were just beginning to think about how we could use our technology to conserve fuel and reduce our carbon footprint. Then along came crypto mining.
The MusE 4 MIDI sequencer
MusE, a digital audio workstation, offers a free software solution for MIDI projects on Linux.
Rethinking Unix-like systems
Matthew Dillon, founder of DragonFly BSD, discusses the past, present, and future of BSDs.
Detect attacks on your network with Maltrail
Maltrail is a lightweight analysis tool that examines network traffic and raises the alarm if it detects suspicious access or dubious name resolution.
Building apps with NocoDB
NocoDB lets you build useful applications without writing a single line of code.
Creating ready-to-print photo  books  with  Ruby and TeX
Instead of composing photo books online, Mike Schilli prefers to use Ruby and TeX to program an application that generates print-ready PDF books.
Managing port security
A few basic commands for working with ports can help you make your small network or standalone system more secure.
Create cartoons and anime with OpenToonz
OpenToonz is a professional animation tool for comic and manga artists.
Avoiding data corruption in backups
A backup policy can protect your data from malware attacks and system crashes, but first you need to ensure that you are backing up uncorrupted data.
Use a general purpose input/output interface on Linux computers and laptops.
The general purpose input/output interface is not just for small-board computers anymore: You can use GPIO on your Linux desktop or laptop, too, through the USB port.
Industrial network communications
Use Python and Node-RED to create an industrial client-server test system.
This month in Linux Voice.
Where do they come from?
Bugs and security issues aren't limited to open source software, despite comments to the contrary.
Shell tool examples in the terminal
Need to know how to use a command-line tool? eg provides real life examples, and it is easier to access than the man pages.
Creating a LibreOffice Music Database
LibreOffice Calc and Base are all you need to create a simple database for organizing the songs in your music collection.
This month Graham looks at Surge XT, Kröhnkite, MQTT Explorer, Mandelbulber v2, Simutrans, and more.
Use Inkscape extensions to create 3D objects from paper
Papercraft is coming back into fashion. Linux users can turn to Inkscape and plugins such as Boxes.py, Paperfold, and Tabgen to create templates from 3D objects for printing.

Issue 259/2022
Buy this issue as a PDF
Digital Issue: Price $12.99

(incl. VAT)