Issue #246 / May 2021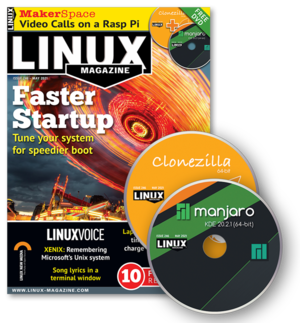 DVD: Manjaro KDE Plasma 20.2.1 and Clonezilla Live 2.7.1
Approximate on sale dates:
UK/Europe: Apr 03
USA/Canada: Apr 30
Australia: May 31
Highlights:
Weary of waiting for a login window? Your driver-drenched Linux distro was configured for all systems, not for your system. This month we show you how to optimize your system for faster startup. Also inside:
Battery Time – Get more hours out of your laptop battery with auto-cpufreq and automated frequency scaling.
Dstask – this handy personal tracker uses Git version control to store tasks, letting you synchronize your to-do list across multiple devices.
Check out MakerSpace for a look at home telephony on the Raspberry Pi, and turn to Linux Voice for a story on the little-remembered XENIX, a once-popular Unix variant that was maintained and developed by Microsoft.
Cookies and Cohorts
Is the web changing before our eyes? We in tech media certainly talk about change all the time. (One could argue that the whole point of tech media is to talk about change.)
Manjaro KDE Plasma 20.2.1 and Clonezilla Live 2.7.1
In the news: Mageia 8 Now Available with Linux 5.10 LTS; Gnome 40 Beta Released; OpenMandriva Lx 4.2 Has Arrived; Thunderbird 78 Ported to Ubuntu 20.04; and Linux Exploit for Spectre Flaw Discovered.
This month in Kernel News: Opening a Random Can of Worms and Out with the Old.
Optimize battery life and computing power with auto-cpufreq
In Linux, the governor controls the CPU clock speed and power management. A tool called auto-cpufreq switches governors automatically to optimize battery runtime and computing power.
Tips and tweaks for reducing Linux startup time
Today's Linux systems boot faster than ever, but many users still get impatient waiting for that first glimpse of desktop. These tweaks will help you get a faster start from the bootloader and kernel.
Where Business and Aesthetics Meet
In the past decade, elementary OS has grown from open source project to a company with a unique business model.
Peer-to-peer file sharing
For the occasional local file transfer, a few simple tools can do the job quickly and efficiently.
A command-line task manager
The dstask personal tracker lets you manage your to-do list from the command line. Dstask uses Git version control to store tasks, letting you synchronize your to-do list across multiple devices.
Getting to know the Python installer
As a replacement for pip, pip3 offers a complete solution for binary packages. Here's how to get started with this increasingly popular Python installer.
Kali à la Carte
Charly uses the katoolin 3 installation script for a targeted approach to installing his favorite Kali Linux tools on the Ubuntu desktop.
Keep control of goroutines with a Context construct
When functions generate legions of goroutines to do subtasks, the main program needs to keep track and retain control of ongoing activity. To do this, Mike Schilli recommends using a Context construct.
Looking for an edge with the classic Quicksort algorithm
If you wanted to assign a flavor to the Quicksort algorithm, it would be sweet and sour. Sweet, because it is very elegant; sour, because typical implementations sometimes leave more questions than they answer.
Faster Python apps
PyPy and Nuitka improve the performance of Python on a Raspberry Pi.
Senior citizen-friendly video telephony system with a Raspberry Pi
A video telephony system with huge user benefits does not have to be complex. This project starts a phone call with just a single button press and switches channels automatically on a TV.
This month in Linux Voice.
Open Source Ingenuity
Watching the Mars rover, maddog is delighted to observe that the small helicopter it carries named Ingenuity has many off-the-shelf components and runs under Linux using free and open source software.
A new fork of RawTherapee offers tools for photo editing
RAW converters are the first tool to use in editing photos, and new solutions and programs have the potential to make users' lives easier. How does ART stack up?
Exploring Microsoft's forgotten Unix distribution
It might seem surprising today, but before Linux arrived on the scene, Microsoft was a leading player in the Unix world. We look at XENIX, Microsoft's lost Unix distro, and show how you can boot up XENIX in a virtual machine.
This month Graham looks at MScSim, Ticker, vizex, and more!
Automatically view song lyrics as you listen
Whether you listen to music on Spotify or a classic audio player like Rhythmbox, Lollypop, or Audacious, a tool named Lyrics-in-terminal will let you read the lyrics for the track you are currently playing.

Issue 41: Linux Shell Handbook 2021 Edition/Special Editions
Buy this issue as a PDF
Digital Issue: Price $15.99

(incl. VAT)