Issue #275 / Oct 2023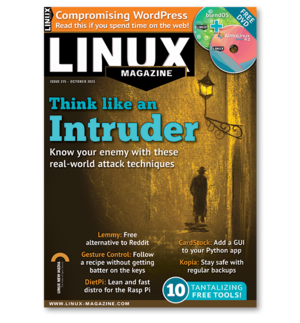 DVD: AlmaLinux 9.2 and blendOS
Approximate on sale dates:
UK/Europe: Sep 01
USA/Canada: Oct 06
Australia: Nov 17
Highlights:
Musical Chairs
Last month I used this space to talk about IBM/Red Hat's plan to restrict access to Red Hat Enterprise Linux (RHEL) source code. This eerie announcement, which seemed quite contrary to the ideals of free software, sent shock waves through the community.
AlmaLinux 9.2 and blendOS
In the news: Nitrux 2.9.1 Available and Uses a Newer Linux Kernel; Zorin OS 16.3; Mageia 9 RC1; Linux Mint 21.2; AlmaLinux Will No Longer Aim for 1:1 RHEL Compatibility; Canonical Announces Real-Time Ubuntu for Intel Core; EU-US Data Privacy Framework Ensures Safe Data Transfers; and IEEE Releases New Standard for LiFi Communications.
In kernel news: Heap Hardening Against Hostile Spraying; and Core Contention Improvements … or Not.
Understanding reverse shells
Firewalls block shell access from outside the network. But what if the shell is launched from the inside?
Understanding privilege escalation
Even a small configuration error or oversight can create an opening for privilege escalation. These real-world escalation techniques will help you understand what to watch for.
Picking locks with local file inclusion
A local file inclusion attack uses files that are already on the target system.
How attackers slip inside WordPress
WordPress is an incredibly popular tool for building websites, and don't think the attackers haven't noticed. We'll show you what to watch for.
The old hat that's still new
Matthew Miller, Fedora Project Leader, discusses Fedora's relationship with Red Hat and its role in the Linux community.
Creating a graphical Python app with CardStock
CardStock provides a simple development environment for building a Python graphical application.
Quality-testing for Debian packages
The adequate command-line tool helps users pinpoint problems with installed DEB packages.
Bulk renaming files with the rename command
The rename command is a powerful means to simultaneously rename or even move multiple files following a given pattern.
Network diagnostics with Go
Why is the WiFi not working? Instead of always typing the same steps to diagnose the problem, Mike Schilli writes a tool in Go that puts the wireless network through its paces and helps isolate the cause.
DietPi lean server distribution
The DietPi minimalist distribution improves the performance of the Raspberry Pi and other single-board computers as servers and desktops and comes with more than 200 specially chosen applications and services.
Use gestures to browse a document on your Raspberry Pi
Have you found yourself following instructions on a device for repairing equipment or been half-way through a recipe, up to your elbows in grime or ingredients, then needed to turn or scroll down a page? Wouldn't you rather your Raspberry Pi do the honors?
This month in Linux Voice and Elvie.
From Contract Law to Copyright
The ideas about and methods for protecting software rights have evolved as computers have moved from expensive and relatively rare to far more affordable and ubiquitous.
Screenshot tools for the command line
Linux is awash in desktop screenshot tools, but what if you want to take a quick screenshot from a terminal window?
The Fediverse's answer to Reddit
With Reddit closing off access to its API, it is time to look to the Fediverse for an alternative.
This month Graham looks at Gyroflow, gRainbow, Polyrhythmix, mfp, Mission Center, and more!
Multifaceted backups with Kopia
Data deduplication, encryption, compression, incremental backups, error correction, and support for snapshots and popular cloud storage services: Kopia delivers.
---
Support Our Work
Linux Magazine content is made possible with support from readers like you. Please consider contributing when you've found an article to be beneficial.
---