Issue #248 / Jul 2021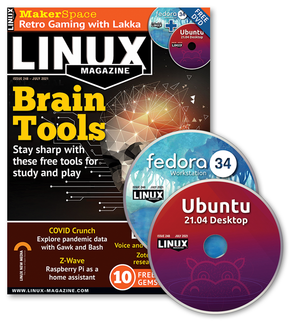 DVD: Ubuntu 21.04 and Fedora 34 Workstation
Approximate on sale dates:
UK/Europe: Jun 05
USA/Canada: Jul 02
Australia: Aug 02
Highlights:
Sometimes you want the computer to think for you, and sometimes you want the computer to make you think. This month we present a selection of free Linux tools for learning and thinking. Flash through virtual flashcards with Anki, create mathematical presentations with Manim, and, to keep your mind sharp, take a turn with the gbrainy brain teaser collection.
Profits and Values
The interface of politics with tech is always complicated – even when the stated values of the country and the company are similar. But in a world of global corporations and diverging values, the interplay is almost impossible to follow.
Ubuntu 21.04 and Fedora 34 Workstation
In the news: Armbian 21.05 Now Available; StarLabs has Released Another Linux Laptop; Ubuntu 21.04 Adds Support for Active Directory; Gnome 40 Available on openSUSE; Kernel 5.13 Merges Apple M1 Hardware Support: and KDE Launches the Qt 5 Patch Collection.
Chronicler Zack Brown reports on want vs. need, and hiding system resources ... from the system.
Virtual flash cards
Anki brings a virtual flash card box to the desktop. Thanks to a useful collection of add-ons, you can adapt Anki to suit your needs, making it one of the most efficient learning tools.
Create diagrams with Dia
If you need to make the occasional diagram, Dia gives you professional results with a minimal learning curve.
A brain teaser game
Gbrainy can help you develop your logical thinking skills with a collection of brain teasers.
Illustrating mathematical concepts in video with Manim
Manim lets you program video sequences with a few lines of Python code to present mathematical problems in an engaging and scientifically accurate way.
Designing for newcomers
Artyom and Kyrill Zorin set out to design a user-friendly operating system, resulting in Zorin OS, a favorite among new users. Bruce talks to Artyom about Zorin OS and where the project is headed.
Editing statistical data with gawk
With very little overhead, you can access statistics on the spread of COVID-19 using gawk scripts and simple shell commands.
Document conversion from the command line
Pandoc lets you convert files from one markup format to another at the command line.
Experimental package management with Nix and NixOS
NixOS and the Nix package manager offer a promising new approach to the challenge of managing packages in Linux.
Python package simplifies algebraic equations
Whether he's filling the bathtub with water or routing electricity through resistors – Mike Schilli juggles mathematical formulas with the assistance of the Python SymPy package.
Who, and with Whom?
This time Charly investigates the three most frequently asked questions about user groups.
Home Assistant makes the Raspberry Pi fit for the Z-Wave world
Z-Wave components, a RaZberry module, and the free Home Assistant software make the Raspberry Pi a powerful smart home control center.
Explore gaming on the Lakka console
The Lakka Linux distribution comes with everything you need to play retro games and lets you install games directly in the user interface. All you need is a Raspberry Pi and, ideally, a simple gamepad.
This month in Linux Voice.
Choosing the Best Distribution
Which distribution is the best choice for you? It's not an easy question, but maddog offers suggestions for finding the answer.
LINUX VOICE: Micro
Editing text at the command line with micro
Editing text at the command line doesn't have to be daunting. Micro brings the ease and intuitiveness of a graphical editor to the Linux terminal.
LINUX VOICE: Tox
Tox: Text, voice, and video chats without a central server
The Tox protocol uses file-sharing techniques for messaging and audio-video chats, which gives users a greater degree of privacy and freedom.
After watching Ubuntu help NASA with its first controlled flight on another planet, Graham spent far too much time this month visiting Mars in Elite Dangerous, via Proton on Linux.
Literature management with Zotero
Reference management software like Zotero helps you easily record and organize citations and create bibliographies.

Issue 249/2021
Buy this issue as a PDF
Digital Issue: Price $12.99

(incl. VAT)