Issue #263 / Oct 2022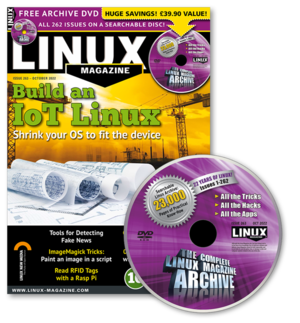 DVD: Linux Magazine Archive
Approximate on sale dates:
UK/Europe: Sep 03
USA/Canada: Sep 30
Australia: Oct 31
Highlights:
The most amazing thing about Linux is its flexibility. Linux systems run on the biggest computers in the world – and on many of the diminutive devices that populate your home environment. If you've always wondered how developers adapt Linux to run on tiny tech, you'll appreciate this month's stories on Buildroot and the Yocto project.
Building project documentation from Markdown files
MkDocs, a static site generator, lets you easily transform Markdown files into ready-to-use, user-friendly project documentation.
Sentience and Sensibility
I feel like we entered a new era earlier this year when Google scientist Blake Lemoine declared that he thought Google's LaMDA artificial intelligence is "sentient," and that the company should probably be asking LaMDA's permission before studying it.
Linux Magazine Archive DVD
This month's DVD includes the 2022 edition of the Linux Magazine Archive DVD – every previous issue of Linux Magazine on a single, searchable disc. Browse the pages of every article we've ever published, and experience our special brand of technical yet accessible how-to insights.
In the news: Kali Linux 2022.3 Released; 14" Pinebook Pro Linux Laptop Ships; OpenMandriva Lx ROME Technical Preview Released, Linux Mint 21 Now Available; Firefox Adds Long-Anticipated Feature; and System76 Oryx Pro Laptop Refreshed with a New CPU.
This month in Kernel News: Chasing the Dream; The Power of the FUSE Side; NTFS3 Maintainership Issues: and Crashing and Warning.
How the Yocto framework brings Linux to IoT devices
The Yocto project gives you all the tools you'll need to build a custom Linux for IoT device.
Roll your own IoT Linux with Buildroot
Whether you need a tiny OS for 1MB of flash memory or a complex Linux with a graphical stack, you can quickly set up a working operating system using Buildroot.
The Red Hat extended family
Red Hat has spawned an outgrowth of corporate and community-based distributions. Here's how these distributions are related and how they differ.
Using browser extensions to uncover disinformation
Fake information is experiencing a boom, but given the right tools, you can reliably separate the wheat from the chaff.
Enhancing efficiency with history
The versatile Bash history command can save you time and effort at the command line.
Automating LibreOffice with macros
ScriptForge helps you automate LibreOffice by building portable macros.
A web user interface for Bash scripts
Create a user-friendly front end for your Bash scripts without writing a single line of HTML, CSS, or JavaScript.
Use AI and Go to program a command-line predictor
Because shell command sequences tend to reoccur, smart predictions can save you time typing. We first let the shell keep notes on what gets typed, before a Go program guesses the next command and runs it for you.
Rocky Linux looks for a place in the enterprise
Rocky Linux emerges as a free alternative to Red Hat Enterprise Linux.
RFID reader on a Raspberry Pi
Inexpensive components for the SPI interface let you upgrade a Raspberry Pi 4 to a display system for zero-contact RFID-based data acquisition.
Access the Raspberry Pi's GPIO
The wiringPi library, which many Raspberry Pi fans have grown attached to over the years, is no longer under maintenance by its developer. An alternative, in the form of Pigpio, has arrived just in time.
This month in Linux Voice.
Sorting and Searching
A look at the history of computer memory and a classic algorithm text.
Turbocharge your ebook reader with KOReader
KOReader offers enough features to give your humble ebook reader new powers and completely transform your reading experience.
LINUX VOICE: 0 A.D.
Immerse yourself in living history with 0 A.D.
Steer the fortunes of ancient civilizations in the real-time strategy game 0 A.D. and revive history.
This month Graham looks at Cecilia 5, chezmoi, Viddy, EmuDeck, Paperless-ngx, MegaGlest, and more!
Scripted drawing with ImageMagick
ImageMagick can do more than just edit existing images. The free software can even be scripted to create simple drawings.

Issue 264/2022
Buy this issue as a PDF
Digital Issue: Price $12.99

(incl. VAT)