Issue #237 / Aug 2020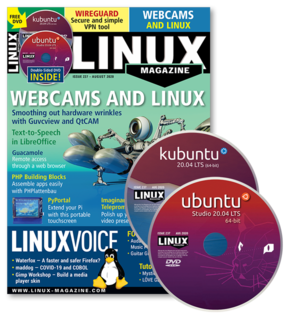 DVD: Ubuntu Studio 20.04 and Kubuntu 20.04
Approximate on sale dates:
UK/Europe: Jul 11
USA/Canada: Aug 07
Australia: Sep 07
Highlights:
This month we explore webcams, screencasting, and a cool teleprompter tool. Also inside this month's issue:
PHP Building Blocks -- The PHPlattenbau project offers useful components for building PHP applications.
Guacamole A clientless remote access tool based on HTML5.
Check out MakerSpace for a look at how to make your Pi Zero into a kitchen timer, and turn to LinuxVoice for a study of the handy MystiQ Audio/Video conversion tool.
Copy Details
The Internet Archive (IA) is a nonprofit founded with the lofty goal of providing "universal access to all knowledge." Their archive of websites lets historians and journalists step back into time to view past states of the Internet.
On the DVD
Ubuntu Studio 20.04 and Kubuntu 20.04
In the news: Linux Mint Drops Snap; Lenovo Upping Their Linux Support; LPI Launches FOSSlife Website; Linux Apps on Windows; and Tuxedo Computers Joins the Ryzen Bandwagon.
Zack's Kernel News
Zack covers: When a Security Hole Is OK; Kernel Documentation Updates; and Security Through Obscurity
Smooth out your words with Imaginary Teleprompter
A teleprompter can help you give a polished look to your speeches and video presentations. Imaginary Teleprompter is a free tool that delivers professional teleprompting capabilities.
Record screencasts with VokoscreenNG
The VokoscreenNG screencast tool offers many options but is still surprisingly easy to use.
Webcam streaming with Guvcview and QtCAM
If your new webcam doesn't work with the default software on your Linux system, try your luck with Guvcview or QtCAM.
A peek at recent events within some leading Linux distros
The distro you load on your computer was developed by real people operating through community groups and other organizational structures. This summary of some recent news offers a glimpse into the inner workings of some leading Linux projects.
Adapt the PDFtk PDF tool's call syntax with Go
Go is not only suitable for complex server programs, but it also cuts a fine figure with simple command-line tools for automating everyday life. Mike Schilli restructures the signature of a PDF manipulation tool.
Creating apps with PHP blocks
Build simple PHP applications quickly with ready-to-use blocks.
Sorting the Harvest
In order to keep up to date with security, Charly uses RSS feeds, among other things. He lets rss2email send the most important feeds directly to his mailbox to ensure that nothing is overlooked.
Client-free remote desktop
Use Apache Guacamole to connect to remote servers from within a web browser.
Build a VPN tunnel with WireGuard
A recent addition to the Linux kernel, WireGuard lets you build a VPN tunnel that relies on encryption to reduce potential security issues.
Converting text to speech in LibreOffice and OpenOffice
Visually impaired users often find working with text and tables in office suites difficult. Pico TTS, a text-to-speech synthesizer, and the Read Text extension for LibreOffice and OpenOffice provide a solution.
The Basics of Version Control
If you develop open source software, you need to know how to use Git. Information on Git fills books, but this basic overview will get you started with a vital open source development tool.
Testing the Adafruit PyPortal touchscreen
Unlike other displays for the Raspberry Pi, Adafruit's PyPortal touchscreen provides an autonomous environment, including a microprocessor, sound output, and a WiFi connection.
Build your own kitchen timer with a dual alarm
A simple kitchen helper with two timers assists budding chefs in coping with dishes that are unlikely to be ready at the same time.
This month in Linux Voice.
Aging Computer Infrastructure
As unemployment claims surge, US computer systems are straining under the increased load. In this column, maddog weighs in on COVID-19 and COBOL.
Testing Waterfox, a Firefox alternative
Waterfox, a fork of the Mozilla Firefox browser, is designed for greater speed and privacy, as well as compatibility with older add-ons. We consider two versions of the Waterfox browser and what they have to offer.
Using Gimp to create a simple media player skin
Forget the photos – Gimp is also a great tool for graphic design. This workshop shows how to use Gimp to create a simple visual image for a multimedia player application.
LINUX VOICE: MystiQ
Convert multimedia files with MystiQ
Working with multimedia files usually involves converting from one format to another. With MystiQ you can handle this task in next to no time.
The promised profusion of extra time has failed to materialize for Graham this month, leaving him with too many synth kits to build, a table littered with components, and a leaking toilet.
Detecting collisions in LÖVE games
To create an action-packed game with LÖVE, these are a few last things you should learn how to do – overlay fancy images to "physical" objects, detect collisions, and get input from the keyboard or mouse.

Issue 39: Getting Started with Linux – /Special Editions
Buy this issue as a PDF
Digital Issue: Price $15.99

(incl. VAT)