Issue #32: Getting Started with Linux 2nd Ed. / Aug 2018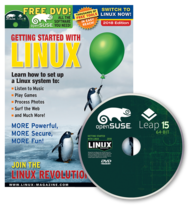 Cover Theme: Getting Started with Linux
DVD: openSUSE Leap 15
Download this issue as a PDF:
100 pages
Price $15.99

More Powerful, More Secure, More Fun!
"Getting Started with Linux" offers you all you need to install and explore the powerful Linux operating system. Join the Linux revolution!
Getting Started
Installing openSUSE
We show you how to install Linux using the openSUSE Leap DVD attached to this issue.
Managing openSUSE with YaST
YaST is the openSUSE system control center.
Security
Lock down your system with these security tools.
Plasma Desktop
openSUSE's KDE Plasma desktop is not only pretty, it is piled high with cool features.
Linux Crash Course
A tour of some important Linux concepts will help you start to think like an experienced user.
In-Depth
Multimedia Players
Watch videos, play music, and stream Internet radio stations.
Backup with Déjà Dup
Implement a comprehensive backup plan to protect your data.
Wine
Run windows programs in Linux.
Tor Browser
Surf the Internet anonymously on the Tor network with the Tor Browser.
Desktop
KDE's Personal Information Managers
KDE Plasma's PIM tools help you organize your contacts, calendars, and email efficiently.
digiKam
Manage your photo collection with this useful desktop too!
Firefox
For many users, the web browser is the most important application.
LibreOffice Office Suite
LibreOffice is an open source office suite with a word processer, database, spreadsheet, presentation tool, and more.
Photo Processing
with Gimp Touch up your digital images with the Gimp image processing tool.
Gaming
Games on Linux
Linux supports a variety of games and game platforms.
Retro Gaming
Linux, an emulator, and a joystick are all you need to play classic computer games from the 1980s and 1990s.
Questions? Email subs@linux-magazine.com
* Google Play Magazines available in AUS, CA, FR, DE, IT, UK, USA
Visit Our Shop
Direct Download
Buy this issue as a PDF
Digital Issue: Price $15.99

(incl. VAT)