FOSSPicks
VPG 0.2.8
If you're interested in audio and sound, the most significant news of recent months was that Steinberg, the German proprietary software company behind Cubase, has released its VST3 SDK for Linux with a GPLv3 license. Cubase changed the music industry, and its original VST API gave Steinberg and third-party developers equal footing when it came to developing audio plugins. These plugins have since taken over the world of audio production, much like the idea behind Photoshop filters, from the recreations of classic and costly synthesizers to the invention of Autotune. But VST support for Linux has only ever been semi-official. Earlier APIs could be included but were incomplete, missing the GUI, and certainly without the blessing of a Libre license. This meant Linux VST adoption has been slow, with only very few plugin developers offering Linux versions, and fewer using Wine to host the Windows versions.
With the new API, VPG (the VST Preset Generator) should have a very healthy future. It's a simple application, but it's especially useful on Linux where there's a lack of anything designed to work with VST plugins specifically. All VPG does is load the plugin file for the instrument or effect and then parses this file for the parameters it uses to process sounds. You can then randomly generate new presets for the plugin and either save this as a VST formatted bank or individual preset. It's great for experimentation, especially with complex synthesizers like the Digits emulation of the Casio CZ where you can set different randomization modes for different parameters. Considering that Linux doesn't currently have much of a preset library it can call its own yet, this is a great way of getting started, and a great way of adding an experimental edge to some of the effects and instruments without tinkering with any values.
Project Website
http://vst-preset-generator.org/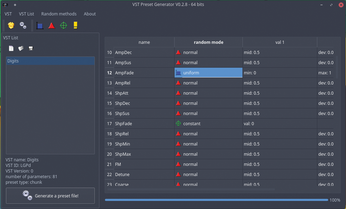 Add random elements to your sounds with a random patch generator.
Android Emulator
Anbox (alpha)
One reason why it's easy to forget that Android is Linux is that there's so little convergence between the Linux desktop and the Android mobile experience. Even Chrome OS running on many Chromebooks is unable to access Android applications without some official blessing from Google. This is a shame, because there are many apps on Android that work well with a mouse and keyboard and that don't exist on the Linux desktop. Anbox – Android in a box – is a new and potentially brilliant solution. It's still in the early alpha stages of development, but it's showing real promise already.
The only requirement for installing Anbox is that your distribution supports the snap package format. Fortunately, snaps are now supported by the vast majority of distributions, including Ubuntu, Arch, Fedora, Debian, and SUSE. The snap requirement isn't just because it's a rather neat way of installing new applications, but because container isolation with LXC is an integral part of its function, and this is exactly how Anbox isolates Android from the remainder of your system. With Anbox installed, Android can be booted into its own window, and any apps from there are booted into further containerized windows. The version of Android that's used is purely open source, which means you'll need to find some way of adding Google Play or Googe's Apps if you want to take the experiment further. This is no different from other un-Google distributions of Android, such as AOSP on your Android phone, and shouldn't be too difficult if you're happy using a few Android debug commands to copy a few important package files over. It's definitely going to be worth the effort, especially if there are proprietary Android apps that don't have Linux equivalents.
Project Website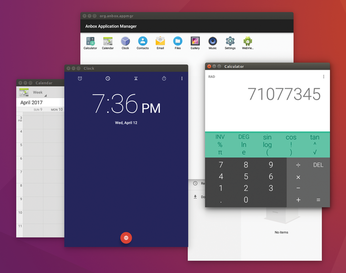 Like many unofficial Android bundles, Anbox can't include Google Play, but it can be installed manually.
comments powered by

Disqus
Visit Our Shop
Direct Download
Read full article as PDF: