Collecting and processing information with Chandler
Note to self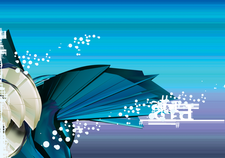 We'll help you organize your data with Chandler, an application that lets you gather information and then decide how to use it.
As far as conventional wisdom goes, it makes perfect sense to use dedicated applications for different types of data: a task manager to manage your to-dos, a calendaring application to track your appointments, and an email client to take care of your messaging needs. But as the volume of information grows, you might find yourself constantly switching back and forth between different applications and spending an increasing amount of time on organizing and structuring incoming information. Enter Chandler [1], an application that attempts to change the way we manage and process information (you can read more about the project's vision on the Chandler website [2]).
Chandler's developers called it "the Note-to-Self Organizer," but you can also think of it as an information aggregator and processor. Unlike traditional applications, Chandler allows you to collect information first and then decide how to process and manage it. Chandler doesn't distinguish between different types of data: Everything you feed into it is treated as generic notes. All notes collected in Chandler can be transformed into more conventional tasks and events, which you can then manage with the use of some rather nifty tools.
Installing and Configuring Chandler
Installing Chandler is not particularly difficult. First, grab the latest .tar.gz archive from the project's website, then unpack it in the desired location. To launch Chandler, use the terminal to switch to the resulting directory and run the ./chandler command. Before you start using Chandler, you should do some preparatory work.
[...]
comments powered by

Disqus