Issue #108 / Nov 2009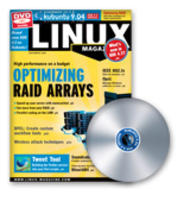 Perl scripts send log messages to Twitter
The Twitter service can be a platform for meaningless chatter, or you can automate access with an API and use it in ways Twitter never envisioned.
Exploring the Pauker flash card tool
Get ready for your next exam with the Pauker flash card system.
Blogging with PivotX
Check out this full-featured solution for your personal or business blog.
Digital asset management with ResourceSpace
Organize all your digital collections from a single user interface.
Installing software the Debian way
Dependency tangles fall away with the Debian package system.
Free CDs and ISO Images
maddog explains the difference between free software and gratis media.
The 10th anniversary Linux Beer Hike
Happy birthday, LBW! Ten years of hacking, hiking, and beer tasting – the movable feast wanders back to Bavaria.
The new three-in-one format falls short for open source projects
Ubuntu Community Manager Jono Bacon reports on the co-located OpenSource World, NGDC, and CloudWorld conferences.
An up-to-date look at free software and its makers
The number of games available for KDE could start growing soon with the free Gluon library to facilitate programming. A Gnome developer shows how to design user-friendly software. Proprietary PDF editing programs could soon be a thing of the past thanks to PDF Mod.
Visit Our Shop
Direct Download
Tag Cloud