An up-to-date look at free software and its makers
Projects on the Move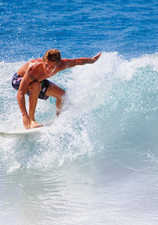 The number of games available for KDE could start growing soon with the free Gluon library to facilitate programming. A Gnome developer shows how to design user-friendly software. Proprietary PDF editing programs could soon be a thing of the past thanks to PDF Mod.
If you believe politicians, computer games are mainly used to prepare youths to run wild. Yet French KDE developer Sacha Schutz has taken steps to facilitate the development of new games for the K Desktop environment.
Karicat
Gluon [1] is designed to facilitate access to audio and graphics hardware for KDE developers and to help programmers quickly develop a world in which realistic physical laws apply, such as the speed and impact of falling objects.
Schutz has developed the first working program based on Gluon, Karicat [2], which creates avatars similar to Miis [3], the three-dimensional virtual characters for the Wii console (see Figure 1). The program is at a fairly early stage of development and is thus more a demonstration of the capabilities of the underlying Gluon library. When this issue went to print, it did not provide functionality for saving your own creations.
[...]
comments powered by

Disqus