Issue #108 / Nov 2009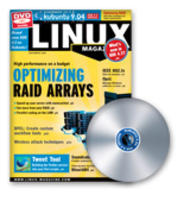 This month's DVD includes KDE 4.30 & Kubuntu 9.40....
OSS Conferenc e in the Aftermath of The Morakot Typhoon Linux Podcasts a Summer Hit New Swiss Linux Distro ...
Professional users are always searching for an edge. Whether you work with Linux as a webmaster, programmer, system administrator, or security consultant, you know the best solution depends on finding the right tool for the job. We thought you might be interested in the following new products and updates.
Optimizing RAID and other performance techniques
This month we show you some tools for optimizing disks, speeding up web servers, and building custom parallel applications.
Improving RAID performance with filesystem and RAID parameters
You can improve performance up to 20% by using the right parameters when you configure the filesystems on your RAID devices.
Speed up your web server with memcached distributed caching
This practical caching tool can reduce the load on a web database server by as much as 90%.
Building high-performance clusters with LAM/MPI
The venerable LAM/MPI infrastructure is a stable and practical platform for building high-performance applications.
Visit Our Shop
Direct Download
Tag Cloud