Looking Your Best on Paper
Type Writer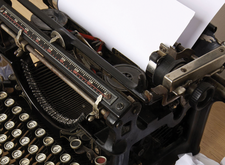 Some documents deserve extra attention to design and typographic detail.
LibreOffice Writer does not default to advanced typography, probably because several decades of word processors has allowed a more relaxed standard for most documents. However, the days of indicating italics by underlining – a relic of the limitation of typewriters – are long past. Although most users are unaware of the fact, Writer can format text almost as well as a professional print shop. With a few default settings and some care, Writer becomes more of a desktop publisher than a word processor, transforming your documents so your words are presented to maximum advantage.
Setting Advanced Options
If you want to produce professional-looking documents in Writer, start with the options in Tools | AutoCorrect Options. In addition to numerous time-saving options, the Options tab has a checkbox to Replace dashes (Figure 1). This option automatically corrects the common habit of replacing two hyphens with an en dash (see below for comments on whether you should use this feature). Another useful option, this time on the Localized Options tab, are checkboxes for replacing single and double straight quotes (' and ") with rounded smart quotes (' and "), of the kind used in professional publishing.
If you are using paragraph styles (and if you are interested in formatting well, you ought to be), you can control hyphenation of lines from each style's Text Flow tab. You can usually leave the defaults of two characters at the end and start of a line, but you also should set Maximum number of consecutive hyphens to 2, which is the typographical norm (Figure 2).
[...]
Use Express-Checkout link below to read the full article (PDF).
comments powered by

Disqus
Visit Our Shop
Direct Download
Read full article as PDF: