Breathe new life into an old computer with PXE boot and TinyCore Linux
Boot Story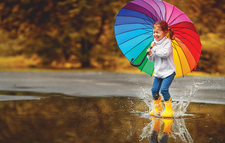 Implementing PXE boot with TinyCore Linux lets you boot a computer over the network – a great solution for revitalizing old computing hardware.
One of my passions is enabling the reuse of older computer hardware that others consider obsolete. I picked up a used laptop at a local university's surplus equipment sale for $15. It was a pretty decent little thing – an older 32-bit dual core CPU with 1-2GB of memory – but my thought was that it would be a great laptop for my kids. The problem: It had no hard drive. My initial thought was to put Linux on a USB drive and boot to that. This worked wonderfully for the first few days – until my kids failed to remember to shut it down properly, which hosed the USB filesystem. To their sadness and my frustration, the computer sat for a few months. Then one day an idea popped into my head: PXE boot the laptop. Preboot eXecution Environment (PXE) is a standard for booting computers across the network. I knew it used DHCP, but that was the extent of my knowledge. This is the story of what I learned about PXE boot, how I implemented it using TinyCore Linux [1], and how I found the coolest, geekiest solution for my kids.
Laying the Groundwork
Almost all of us have seen the PXE or Network boot option on our BIOS screen. PXE uses the network interface to load the operating system and necessary configuration files over a network. This is accomplished using two particular network protocols: Dynamic Host Configuration Protocol (DHCP) and Trivial File Transfer Protocol (TFTP). DHCP is used to request client configuration data before any operating system is loaded. Once the client has network access, files are downloaded via TFTP and are loaded into memory on the client machine. Once the files are loaded, the operating system will boot on the client completely in memory without requiring any local storage. Knowing a little about these two components will improve the ability to properly implement a PXE environment.
One of the key components of a PXE boot environment is a DHCP server. DHCP allows a client configuration to be requested and delivered over a network. When a client device connects to a network, a series of requests and responses must take place to complete a DHCP session using the following steps:
[...]
Use Express-Checkout link below to read the full article (PDF).
comments powered by

Disqus
Visit Our Shop
Direct Download
Read full article as PDF: