Keep watch over your server system with Webmin
Modules
You can augment Webmin functionality by adding modules, many of which are included in the basic package. To see the modules, click on Un-used Modules in the sidebar. To manage your modules, or install new ones, click on Webmin Modules in the configuration panel shown in Figure 1. This opens a relatively intuitive form that lets you download and install modules, control who can use them, and generate clones. A Webmin module clone is a separate instance of the module that runs with different settings. To learn more about modules, visit the corresponding documentation page [3].
Basic Configuration
The first things you should learn to do with Webmin are, of course, the first things you would do on any Linux computer.
Go to Hardware | System Time, for example, to set system and hardware time or to synchronize your computer to a time server.
Click on System | Bootup and Shutdown to get a list of which system services are available and to stop or automatically start the services at every boot. The current status of system services is also visible under Others | System and Server Status.
Installation and updates of software, including new versions of Webmin, happen in the Software Packages and Software Package Updates panels in the System section of the sidebar (Figure 3). These panels are more primitive than you are likely accustomed to if you work with Synaptic or similar tools, but they are not difficult to use. Again, they work pretty much in the same way, no matter what Linux distribution is underneath.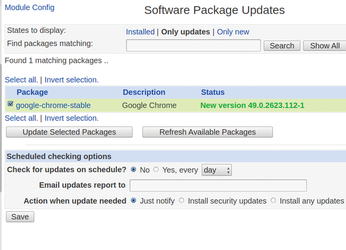 Figure 3: The Software Package Updates panel is a good example of what working in Webmin looks like. The appearance might be dull, but all pages pack a lot of options in a clear way, and the interface even displays the full output of many commands.
Webmin also includes a basic file manager at Others | File Manager, and you will even find backup utilities. The File manager looks quite bare, but it has all the main functions for a program of this kind, including a means for creating zipped archives and the possibility for getting files directly from any Internet server.
As far as backups go, Webmin includes two interfaces with different purposes. The one in Webmin | Backup Configuration Files is aimed mainly at saving all or parts of the configuration files you edit via Webmin, plus its own. In that panel, you can manually add other files to back up, restore from previous backups, or schedule regular backups.
The window under System | Filesystem Backup is reserved for backups of full, generic directories in your filesystem. In both interfaces, you can tell Webmin to schedule the backups at regular intervals and save the resulting archive to an external server via FTP or SSH.
Linux or Webmin Users? Both, of Course
If you go to System | Users and Groups, you will see a list of all the standard Linux/Unix accounts on your systems, which should not be confused with Webmin accounts. This part of Webmin lets you do almost everything you need with system users and groups: You can create or delete them, move users among groups, change user privileges, and so on. If needed, you may even click on Run batch file to manage many users at once from an uploaded or local text file. Click on Instructions and batch format to see the exact (simple) syntax you should use in the text file. The one thing about system users that you cannot manage in this panel is the disk space quotas for the /home partition. That function has its own window under System | Disk Quotas.
Webmin doesn't just help you manage the users of a Unix/Linux system. You can also create users for Webmin itself – or at least its own, separate rules about what system users may do if they log into Webmin. This functionality is handled in the Webmin | Webmin Users page. A whole section of the online documentation [4] explains how to create Webmin users and how to specify which users will have access to which functions or modules.
You might not need bother about Webmin users at all, if you are the only user of your system, except for one thing: click on Unix User Authentication, select Allow users who can run all commands via sudo to login as root, then save and log off. At that point, you will be able to log in and work in Webmin using the account of any user with sudo privileges, instead of having to use the root account.
The Webmin authentication code that makes this possible needs the Perl module IO:Pty, which might not be installed by default. Most distributions have it in their standard repositories, however, so if Webmin complains, just install it and try again.
comments powered by

Disqus
Visit Our Shop
Direct Download
Read full article as PDF: