Interview – Meet Gnome's Nuritzi Sanchez
Meet the President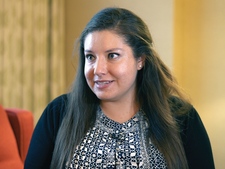 Gnome Foundation president Nuritzi Sanchez is on a quest for a new generation of users.
Last month, when I was in San Francisco covering the Red Hat Summit, I realized the president of the Gnome Foundation also lived in the area. We connected on WhatsApp and decided to meet for dinner. Nuritzi Sanchez has been involved with open source for more than six years as part of the Endless Computers team. She joined the Gnome Foundation in 2015, and then in 2016, she was elected as the president of the project.
As a newcomer, she finds herself in a unique position. "I have been here only for six years, which is nothing," said Sanchez, "Being a newcomer myself, I can see how important it is to be very welcoming to people who don't have a long history with the project." Gnome, which was founded in 1997, is over 20 years old, and some developers have been around since the beginning. "It's great that we have these veterans who are our North Star regarding what free software should be. You have to have that spectrum," she said. "We also need new users."
As the technology landscape is changing, traditional venues (such as Linux User Groups) that used to bring new users to Linux are disappearing. "I can still identify with many people who haven't really used free software before. I see myself as a bridge, especially for women," she said. "I've noticed that people feel they can approach me easily, and I tend to be a friendly face in general. I have been able to connect with these people."
Sanchez says it's as much about Free Software as it is about making technology accessible to more people and improving the quality of life. One of the reasons she joined the Gnome Foundation is because she believes in the notion of making technology for the whole world. "I love the philosophy behind free and open source software, and when you love something, you internalize it, and it becomes part of your life."
Bringing New Users to Free Software
One of the core focus areas for Sanchez is to bring new users to Linux. As part of the Endless Computers team, which caters to many different countries, she could see that Gnome internationalization was critical to the company's success. If people can't use a software tool in their own language, it won't see adoption. She found that tools that help in internationalization were not very friendly to non-developers. "You have to be familiar with PO files and the general development workflow, but at times, there are opportunities for translators who happen to be teachers or non-techies. These kinds of people find it hard to get involved," she said.
It made Sanchez wonder how a massive, community-driven project like Gnome actually worked. How were decisions made? How were funds and budgets allocated to areas where the project needed to grow? How did they attract new users while at the same time retaining old ones? As she started looking for answers to these questions, she found herself getting more and more involved with the project. Her curiosity eventually led her to become the president of the Gnome Foundation.
"I started helping in creating policies to further the growth of the Gnome community. While the software development work was under the control of the developers, the foundation was able to have an impact through channelizing funds in the right direction. I see it as a way to empower the community to keep expanding. This year, we're investing more money into the marketing and engagement side of things, where people from the project go out for a hackfest and interact with local communities and bring new people to the project. Paying for pizza or drinks for such events might not be a big deal in the Western society, but there are countries where $50 could be a lot of money for one hackfest. It does make a big difference. The whole point is how to use this money to reach out and bring new people to free and open source software."
When she joined the project, one of the questions she kept hearing was how was she, or the board, going to help expand Gnome and attract new users to the Gnome desktop at a time when web technologies and mobile devices have become shiny new things that everyone wants to chase. "That's something we've been focusing on in the last couple of years. We've been working on different tools for users to find projects and contribute. And we are structuring our policies, at the board level, to help make it easier for more people to join."
It's not just about attracting new people; the foundation organizes events that bring the whole community together to meet in-person and plan for the future. Moving to GitLab (ahead of Microsoft's acquisition of GitHub) was one of the many decisions that came out of such an event. The Gnome Foundation also offers legal support to the Gnome project. It pays for the infrastructure that hosts the code. It hires interns to work on the various projects, and it also signs contracts for specific projects. "We try to provide as much support as we can so that developers can focus on their project instead of worrying about these background tasks," she said.
The Gnome Foundation has two full-time paid employees, including the executive director of the Gnome project; however, the presidency of the Gnome Foundation is an unpaid position; Sanchez does all of this work as a volunteer. "President is a legacy term from the days of [Gnome cofounder] Miguel de Icaza," she said. "The president of the board of directors helps direct the board, to make sure that everything is done properly according to the goals. We appoint the executive director to execute those goals into actions, forge relationships, and build the team. We have the power to hire and fire the executive director."
Ubuntu's Impact
Gnome used to be the default desktop for Ubuntu, which is used by millions of users. When Ubuntu switched to Unity in 2011, Gnome lost millions of users and the support of the powerful Ubuntu development community. Last year, however, Canonical decided to shut down the Unity project, and Ubuntu went back to Gnome.
"We're excited about the return of Ubuntu. We are doing our best to welcome Ubuntu users and the community behind the project. Canonical has joined our advisory board, and their teams have started to work with our design teams to better integrate the project," she said. "System76, a Linux-focused hardware vendor, has also joined the advisory board, so a lot of momentum is building up for Gnome. I see a lot of great things happening in 2018 and 2019. Since we also have an executive director now, there are a lot of changes in store for Gnome that you will see in the coming months."
Future Growth
Although the US and Europe might be moving towards smartphones and IoT, many emerging and developing economies are still focused on the Linux desktop. The Gnome Foundation is seeing the emergence of new communities that are becoming active. "We see a lot of interest from countries like Turkey and Kenya. Latin America is also showing some growth. We used to be very strong in those regions, but some of these communities died off. Now we see some revival, which is exciting. I hope that these communities won't just adopt and promote Gnome but will also become active contributors. To make these communities successful, we need to encourage diversity – to create products for our global population."
Diversity is a very complicated term; it could be about language, culture, education, or technical background. "When people don't feel comfortable speaking in a certain language, or a certain tool is blocked in their country, it affects the project. We are thinking about how to address such challenges and facilitate the core development of Gnome. We also want to get them involved with the decision-making process so that they can provide feedback and see the changes that they need," she said.
comments powered by

Disqus
---
Support Our Work
Linux Magazine content is made possible with support from readers like you. Please consider contributing when you've found an article to be beneficial.
---