FOSSPicks
Azimuth
Thirty years ago, games with vector graphics seemed impossibly futuristic. These games were drawn in lines by hardware that drew from one point to another, so you never had any pixelated stepping or aliasing artifacts. They played on screens that seemed to have infinite resolution, which made games like Asteroids and Star Wars incredibly immersive. Azimuth is a vector graphics game that isn't quite in the same category, but it gets close and has way more depth than the average arcade game. This is because its 2D graphics are also drawn using vectors, albeit ones filled in and Gouraud shaded, and modern high-density screens can almost make you believe you're playing on one of those "infinite resolution" screens of old.
The game itself sees you exploring an old planetary colony to rescue stranded colonists, and you do this by navigating your craft through old tunnels, around protruding gantries, and past moving threats. This exploration takes inspiration from the classic Super Metroid on the SNES. There are elements of combat, exploration, careful maneuvering, and puzzle solving, but the control system is of the Asteroid "rotate and thrust" type, with fire being used to activate doors and kill aggressors. As with Asteroids, you build up momentum in one direction and need to rotate to the opposite angle to reduce your speed, or to stylishly steer around objects, and you'll soon have rockets and bombs alongside your pea-shooter. It's got a wonderful retro feel, and you feel compelled to explore further to unearth new structures and further depths of the planetary base. Your progress is even mapped on the pause screen, so you can see how far from the surface you're travelling, and the game is huge. You can save your progress at various save points within the game itself, and, fortunately, there are six user position slots for the entire game, so you and other users on your computer can have six games on the go.
Project Website
https://mdsteele.games/azimuth/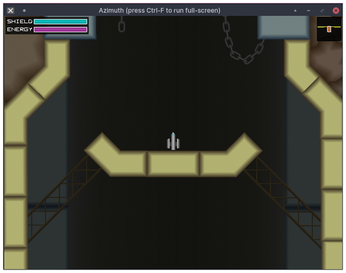 The graphics style and music in Azimuth is suitably retro, but the gameplay is timeless.
comments powered by

Disqus
Visit Our Shop
Direct Download
Read full article as PDF: