FOSSPicks
MMO
Isleward
There aren't too many open source, online, massive multiplayer games for Linux. But Isleward is one. With some wonderfully enticing 16-bit style graphics, and a top-down retro Rogue-like exploration gameplay style, it's a difficult game to resist. And you can instantly play it, for free, because the developer hosts a server (https://play.isleward.com/) where you can simply create an account and start playing. However, unlike almost every other game we can think of with an enticingly free account creation and play portal, you're also completely free to download the code to Isleward and run it yourself from your own Linux machine. It might be a little harder to get friends to join, but you'll stay in control of your own data, and of course, you're free to make and contribute whatever modifications you wish to the game engine.
Like nearly every RPG, you start the game by creating a character – first by giving it a name, and then a "spirit." There are currently three to choose from: an owl for spellcasters, a bear for physical types, and a lynx for the nimble and dextrous. After this, you enter the game world, and there's a small introductory tutorial to ease you into the controls and principle mechanics. You move with the WASD keys, and you can map out a path quickly while your character is in motion. Certain locations, such as the inside of an Inn, are occluded until you enter them. A pane in the lower part of the game window gives you a "nethack" like description of your surroundings, which is helpful as you often can't work out what the pixels represent. If you need to attack anything, you select it with the cursor and press Space to auto-attack when the target is in range, which usually means when it's in the adjacent square. All of this is played out with other people also in the game, which adds to that old-school feeling, familiar to anyone who played early Ultima games. There's still a lot of development needed, but it's already a lot of fun, and thanks to being open source, anyone can contribute.
Project Website
https://gitlab.com/Isleward/isleward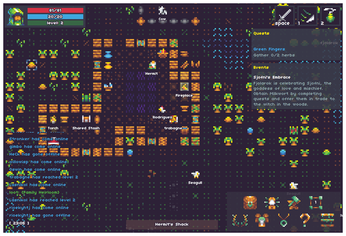 Isleward can be played online, through a browser on hosted on your local machine, and even with an Android app. And it's open source!
comments powered by

Disqus
Visit Our Shop
Direct Download
Read full article as PDF: