Christmas fun for makers
Maker Christmas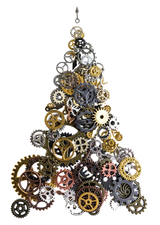 Make your own Christmas music box with a microcontroller, servomotor, NeoPixel LED ring, and mini-MP3 player.
Music boxes and Christmas pyramids are among the top sellers in Germany during the Advent season. Expensive, hand-carved items can fetch four-figure sums, whereas cheap imitations sell for EUR20 (~$17). Christmas pyramids are often powered by the heat of candles, and the cheaper ones in particular have such an unfavorable candle-to-propeller ratio that the pyramid will not turn without mechanical help. Music boxes are driven by fragile springs, but the constant need to rewind them spoils the fun.
My idea of building a music box of my own design was born from these frustrations. In terms of the electronics, you do not need many components. The following sections are intended to give you some ideas for your own projects; the parts used in this example can easily be replaced by whatever delving into the depths of your lumber box reveals. The only important elements in this project are light, motion, and music.
Controls
To control the project, I used a Trinket M0 microcontroller [1] by Adafruit (Figure 1), which runs CircuitPython, a minimalist Python that supports a wide range of peripherals with its many libraries. The price of the controller is in the same range as a Pi Zero, including an SD card, but it is easier to put into operation because you do not need to install and configure an operating system.
[...]
Use Express-Checkout link below to read the full article (PDF).
comments powered by

Disqus
Visit Our Shop
Direct Download
Read full article as PDF: