Exploring Microsoft's forgotten Unix distribution
Days of XENIX
It might seem surprising today, but before Linux arrived on the scene, Microsoft was a leading player in the Unix world. We look at XENIX, Microsoft's lost Unix distro, and show how you can boot up XENIX in a virtual machine.
As strange as it may seem, there was a period when Microsoft was advertising Unix as being "the microcomputer operating system of the future," and the company was even a big player in the Unix business.
Home computing at the time was dominated by 8-bit microcomputers, and Microsoft was planning for the next stage of computing, providing the OS for 16-bit microprocessors. After analyzing all available choices, Microsoft was expecting Unix to be the operating system of choice once home computing became sufficiently powerful.
Development and Launch
Seeking to make its own Unix adaptation, Microsoft bought a license from AT&T for Unix Version 7 in 1979. In August 1980, Microsoft announced their product would be available for 16-bit microcomputers, highlighting the fact that it would be a multiuser, multitasking system.
Microsoft wasn't able to use the name Unix, meaning they had to come up with something new. They settled on XENIX. The press release stressed all of Microsoft's existing "system software" would be ported to the system and XENIX would be compatible with "all existing software written for the Unix OS."
XENIX, like its Version 7 base, started life on the PDP-11 server platform, but in 1980, the Santa Cruz Operation (SCO) was entrusted with the task of porting the OS to other architectures. It was ported to the Zilog Z8000 in 1981, though this platform was not very successful. A Motorola 68000 port soon followed, allowing for more machines, including the Apple Lisa 2.
Rather than selling XENIX directly to customers, Microsoft licensed the XENIX name and code to original equipment manufacturers (OEMs), who in turn sold XENIX to customers. Microsoft bought a controlling stake in SCO, who was tasked with both porting and reselling XENIX under their own name, SCO XENIX.
In 1983, XENIX was ported to the Intel 8086/8088. By now, Microsoft had moved their product away from its Unix Version 7 roots by including enhancements from BSD 4.2, such as vi and the curses library, and adding features like multiple virtual consoles and support for Micnet local area networking.
After its port to the x86 platform, XENIX became the most widely used version of Unix due to the platform's popularity and inexpensive hardware.
The 286 Era
Performance wise, a XENIX machine was now at the very high end of the home computer market but still below the performance of the minicomputers that ruled servers.
However, in 1984 there was significant buzz around IBM's new 286 AT standard (Figure 1), as well as the (incorrect) belief that DOS would soon become obsolete.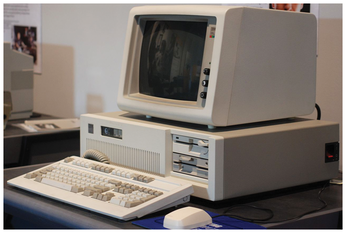 Figure 1: The IBM 286 AT brought better performance, narrowing the gap with the minicomputers that ruled the server space. © MBlairMartin, CC BY-SA 4.0 [1]
While staying backwards compatible with the 8086 and 8088 XT, 286 machines allowed for 16MB of RAM over the XT's maximum 640KB, and they also allowed for larger hard drives – critically important when creating a decent server.
In August 1984, Microsoft released XENIX 286. This system was capable of dual-booting with MS-DOS, included new features from BSD 4.1 and Unix System III, and was capable of supporting eight dumb terminal connections. (Besides XENIX and DOS, Microsoft at one point developed an in-between product called XEDOS that was never released. See box, "XEDOS: One Product Too Many.")
XEDOS – One Product Too Many
Microsoft's strategy in the early 1980s was more than just DOS and XENIX. There was a third product that didn't see the light of day. Mostly.
Information on XEDOS is extremely hard to find, but Microsoft had a multi-tiered plan for their customers: DOS for basic users, XEDOS for intermediate users, and XENIX for people with serious computing needs.
Byte magazine's January 1982 editorial [2] discussed Microsoft's offerings, with MS-DOS as Microsoft's "single-user, single-tasking operating system." Customers who wanted multiuser and multitasking support would buy XENIX, Microsoft's premium product.
However, the magazine went on to say: "In the middle will be XEDOS, a new operating system written in the C language for the 68000, Z-8000, 8086, and LSI-11 processors. XEDOS will contain XENIX-like features and will be essentially a single-user version of XENIX."
Although XEDOS itself was never released, its features were integrated with MS-DOS 2.0, which had a hierarchical filesystem, basic piping, and I/O redirection.
There were also hidden commands and functions in DOS 2.0 that were undocumented and discontinued from DOS 3.0 onwards. For instance, there was a SWITCHAR control that used Unix switches and forward slashes, and an AVAILDEV function that allowed devices to be addressed as /dev files, as under Unix.
The chief strength behind XENIX was that it was a robust multiuser and multitasking environment. This gave XENIX the edge in very specific markets, whose clients found the OS indispensable.
XENIX became the go-to system for early ISPs, who often used it for Internet gateways and mail systems. Before long, ISPs were ditching enormous PDP computers for a simple PC with a large hard drive.
IBM's $5,000 AT 286 made for the cheapest Unix workstation around, which became an immediate hit in university computing labs worldwide.
Furthermore, because XENIX allowed inexpensive dumb terminals to connect to a central machine, it was perfect for any setting where users needed to share the same centralized resource.
XENIX became popular with retailers, fast-food outlets, and for scheduling systems used in hotels and restaurants. Internally, Microsoft used XENIX for handling email, and it was used by everyone in the company, right up to Bill Gates.
By the late 1980s, Microsoft had become the biggest Unix company, with XENIX having the largest number of installations of any Unix variant.
The 386 Era
Despite the heady success of XENIX on the 286, as computing shifted towards the 32-bit 386, the Unix market was becoming more competitive, and Microsoft grew nervous about its Unix offering.
Unix parent company AT&T had teamed up with Digital Research Inc. (DRI) for the latest commercial release of Unix System V, and DRI's compilers were to become the agreed System V standard.
Meanwhile, IBM had unveiled its own Unix variant, PC/IX, which was developed independently of Microsoft and XENIX, effectively snubbing the two companies' collaboration thus far. Microsoft didn't want to compete with Unix parent company AT&T or deal with the added competition of corporate giant IBM.
Microsoft decided to essentially pull the plug on XENIX and entered into a partnership instead with IBM to develop OS/2 – an advanced desktop that appeared to be the future of operating systems.
In 1987, Microsoft transferred the ownership of XENIX to SCO, while retaining a minor stake in their company.
Meanwhile SCO busied themselves with the new 386 edition of XENIX, which they updated to conform to the latest System V standard. That same year, SCO shipped Microsoft XENIX System V/386, the first 32-bit operating system for x86 machines.
This new release added support for TCP/IP, SCSI, and a menu-driven business shell. Backwards compatibility was maintained with Microsoft XENIX 286, for which a large software base already existed.
comments powered by

Disqus
---
Support Our Work
Linux Magazine content is made possible with support from readers like you. Please consider contributing when you've found an article to be beneficial.
---