The Audacity of Carla Schroder
Jan 26, 2011
In this exclusive Linux Pro Magazine interview, tell-it-like-it-is, Linux Today editor Carla Schroder talks about her latest book, The Book of Audacity , shares facts about herself you won't find anywhere else, a peek into her current projects, and offers advice for women on making their own paths, encouraging children, and more.
Linux Pro Magazine: Can you tell readers a little about you, your relationship to the Audacity project, and how you got started using Audacity?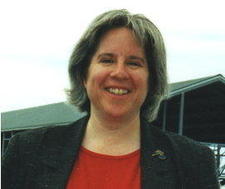 Carla Schroder: I'll start off with my favorite subject, me. I've always been good with my hands, the classic tinkerer taking things apart to figure out how they work. And of course putting them back together, sometimes in better ways. (And sometimes not!) I used to be able to diagnose and repair cars, back in the olden days before they were computerized, I'm a decent carpenter, and once upon a time I worked as a massage therapist. Like a lot of people I have the kinds of hands that know things—I can touch something, look at it, study it, feel it, and learn about it. I can learn how to do just about anything; just give me some instructions and tools and get out of my way.
I own a little farm, which makes being handy extra-valuable: handling and caring for livestock, growing food, building and maintaining fences, painting, maintaining a long gravel driveway, maintaining irrigation ditches, pasture management and improving the soil, researching and using sustainable and 'green' technologies, cobbling together customized sprinkler lines out of cheap materials that work as well as the expensive prefab kind, building outbuildings and critter shelters, and so on. I like doing things myself because I do a better job, and I like having the choice of hiring a contractor for scary dangerous things like roofs and electrical work. Which I could do if I really had to. But I don't want to.
I think developing manual skills are important and useful, and that physical skills improve brain development. Girls and women are still steered away from doing such things, and from even believing that we can. Girls and boys usually know at a young age when they have aptitudes for carpentry, gardening, mechanics, electronics, art, music, certain sports, or what-have-you. We just know we can do something and have that hunger and desire to experiment and learn. Kids need encouragement to believe in themselves, and need both structured and unstructured education. Nothing beats having a pile of nothing-to-lose gadgets, some tools, and time to mess around with them and figure out how they work. Kids want to be competent and want to learn.
I want to emphasize that it's never too late. I entered adulthood with all kinds of unfulfilled childhood desires, and have spent my life catching up. I'm 53 now, and I've had a half-dozen different careers. I'm always starting something new from scratch. Finally I've been able to learn how to do a lot of the things I had always been interested in. Here is another message especially for girls and women: You don't need permission. Dream big, figure out what you really want to do, take charge of your own life, and go do it. Chances are you'll encounter discouragements in various forms. Ignore them and invest time and energy in building relationships with people who encourage and support you, and who share your interests. Then invest some time in passing on encouragement and support to other people who need a hand up.
I've had an interest in Audacity for some time. I like making live recordings and then editing and cleaning them up, and I've digitized a lot of treasured old vinyl LPs. It's the same old story—the music industry doesn't care what makes customers happy; they just keep trying to force us into their customer-and artist-hostile business model. I've been into music all my life, and, like a lot of music enthusiasts, have a long history of working around the silly music industry to get what I want.
LPM: What was your motivation for writing a book on Audacity?
CS: I was approached by No Starch Press to write an Audacity book. I had just finished the Linux Networking Cookbook (O'Reilly Media, great book—buy early, buy often!) and was totally tired. Writing a technical book and working a job is like having two full-time jobs. But I was already familiar with Audacity and thought why not, it's a great program with a strong dev team and community support. It's popular, it's packaged with a lot of commercial audio devices, and even though the Audacity documentation is pretty good, I always think I can write better howtos. I love writing and teaching; I'll probably croak while writing a howto of some kind.
LPM: Do you do very much recording or editing using Audacity?
CS: Audacity suits me fine for my style of audio production. I play violin, my splendid significantotherawesomebabe Terry plays guitar, and there are a lot of musicians we hang out and play with. It's amazing who you find in a small town at the end of nowhere—we know several retired professionals and a lot of very accomplished musicians who play for fun. Audacity is great for producing two-track stereo recordings at all quality levels, from lo-fi Internet streaming to very high-quality CD and DVDs. I have a little recording studio in my house, and I love recording live shows. A netbook equipped with Audacity and a good-quality stereo mic is an awesome portable recording studio. I need to make time to get out and record the stories of the oldtimers around here—they're a vanishing generation and their stories are worth preserving.
I plan to produce some podcasts one of these days and some educational videos. I can do it all with Free Software, which in itself will make some great howtos.
LPM: How long did it take you—from concept to print—to finish the book? What was the biggest challenge you faced in this process and how did you overcome it?
CS: This book was pain itself. I really should have said no because I was so tired and burned out. It took over two years; it should taken less than one. My editor at No Starch was incredibly patient. I kept turning in seriously crappy chapters; I don't believe I turned in a usable draft until early 2010. In the last six months I pretty much rewrote the whole book. It was rather humiliating to go back and re-read those early chapters because they were so bad.
There were some other glitches. The original technical reviewer didn't work out, but fortunately I was able to find a good replacement. The original copyeditor didn't work out either. Partly because I was turning in such bad work, and partly because he was instructed to act more as a co-author than a copyeditor. Sadly, he made things worse, though he tried valiantly.
There are technical hurdles with publishing as well. The book publishing industry runs on this weird mix of Windows and Mac software, which is a real pain for a Linux author. (Audacity is cross-platform, running on Linux, Windows, and Mac, but I work on Linux.) I swear if I get asked "Why can't you just use MS Word?" one more time I will get violent. Fortunately, No Starch is fluent on all three platforms and does its best to accommodate authors. I wrote the book in LaTex, exported to PDF for proofreading and editing, and then I was assigned a new, very excellent copy editor who was willing to deal with LaTex.
LPM: Audacity 1.2.3 was released in 2004. What are the most significant changes in its evolution since then? What features would you like to see implemented in future releases?
CS: I have great admiration for the Audacity dev team. They're supporting multiple operating systems, and it looks pretty much the same on all of them. They're responsive to bug reports and wish-list requests, and Audacity's excellent plug-in support opens up a whole world of third-party add-on features.
One major improvement is Audacity now supports recording an unlimited number of channels at once, until your computer keels over. Pre version 1.3.6 or thereabouts, it had a limit of 16. Another excellent improvement is nicely integrated FFmpeg support, which opens up a whole world of proprietary codecs. Because Audacity is licensed under the GPL, they cannot bundle encumbered codecs, such as MP3, AAC, and WMA. But they have made it easy for users to add what we want ourselves.
One feature I would like to see improved is multi-channel surround export. Audacity can export to 5.1 and 7.1 surround, but its channel mapper is still rudimentary and does not tell you which channel is which—center, left, right, surround channels, and so on. It's different for different audio file formats. For example, WAV and WMA are different, even though they're both Microsoft formats. I included channel-mapping tables in Chapter 9, Multi-track Recording, for various popular audio formats.
Another feature at the top of my wish-list is save while recording. Currently you can't save until you stop recording.
LPM: What's your "elevator-pitch" when someone not familiar with Audacity asks you, "What's Audacity?"
CS: Audacity is an excellent recording and mixing program for interviews, podcasts, studio and live recordings, and preserving and restoring legacy media, such as old tape recordings and vinyl records by digitizing it.
LPM: The description of your book on the O'Reilly site ends with, "The Book of Audacity will turn amateur podcasters and open source enthusiasts into professional digital audio producers in no time." This should be exciting to anyone who is trying their hand at podcasting, but can you talk a little to the non-podcasting users and what they will gain from reading your book?
CS: I didn't write the excitable marketing hype! The book covers both how to use Audacity and teaching fundamental audio production concepts. Non-podcasters will learn important audio fundamentals such as terminology, silly audio myths, what to look for in audio hardware, how to fix defects, and how to get those sounds out there in the world into the computer, and back out again. Anyone who works their way through the book will learn how to make high-quality recordings they can be proud of, from hobbyists to independent musicians making demos and CDs for sale.
LPM: What excites you most about this book?
CS: It's frikken finished I can sleep again. And I think it's a pretty good book—though of course I always see things that could be better—and I think readers will be pleased by it.
LPM: What other projects besides Audacity are you involved in?
CS: At the moment, I am investing a good bit of energy into learning my way around Arch Linux, and Digikam is probably my favorite piece of software ever. I am investing a lot of energy into learning to be a good photographer, and Digikam is my digital photo workhorse. It's an amazing piece of work that keeps getting better.
LPM: Now that people have heard about The Book of Audacity, when and where will it be available?
CS: No Starch is good at getting books on shelves, so look in the usual suspects like Barnes and Noble and Powells. I suppose these days that online sales are more significant, such as Amazon, BN.com, Powells.com, and direct from Oreilly.com and Nostarch.com.
LPM: Is there anything about you, the book, or anything else I haven't ask you about that you would like to include?
CS: There is—a lot of people, and especially women, think they need to be all expert and accredited and degreed and perfect before they are ever competent to write a book. I don't want to minimize how hard it is to write a technical book, because it is very hard. But aside from having good writing skills and work ethic, the most important attribute is the ability and confidence to learn as you go. Because even if you think you already know a lot, you'll find that when you're writing for other people, you don't know as much as you thought. The more I dug into Audacity, the more I discovered it could do.
Another thing I had not anticipated was having to teach both audio fundamentals and audio hardware. Audacity (or any audio software) doesn't make sense if you don't understand those things, so I think taking an integrated approach makes this book especially valuable. Not only does it go into detail on Audacity's features, but also the basics of building a recording studio, doing field and live recording, and the basics of digital and analog audio hardware. The world of audio is vast, so I could have written several volumes, but I think I covered the basics well enough to give readers a good grounding in building a solid skill set, and a good base to build on if they want to advance beyond Audacity.
Comments
Publishing software

"Why don't you just use Word?!" <-------- Wow! Do I sympathize with your reaction here! I'm a Ph.D. student and while our computer science & engineering department does a respectable job of using and encouraging free software (our labs run a strange mix of CentOS, Unix, and Windows servers), I run into this a lot.

Open/Libre Office is a much better suite than Microsoft Office, even ignoring the fact that it's free software, but nothing really beats LaTeX.

I'll be purchasing this Audacity book one day soon, I'm sure.

Carla carla bo barla

Carla rocks! I haven't tried Audacity yet but she makes me want to give it a try. I really like the idea of using it to interview the people in your area to collect their stories. I wish I would have done that before my Grandpa Jr. passed away. sniff sniff


Audacity 1.3.13 will be awesome

Carla is the best - how she manages to write a book and still work at Internet.com is beyond me. BTW, you forgot to ask her how much coffee she drinks.

On Audacity, I use it religiously myself and am running the latest 1.3.13 alphas - At on point, I'll have to admit that I had GarageBand envy, but Audacity 1.3.12 and soon 1.3.13 blow the core out of Apple.

Netbook as portable studio

I should have referenced my Linux Planet article <a href="http://www.linuxplanet.com/...views/7114/1/">Travels With Teo: Linux Netbook Hits the Road</a>, which shows ZaReason's Teo netbook in action as a portable music recorder. Sand Creek Fiddler's Jam 2010!

Carla
comments powered by

Disqus
---
Support Our Work
Linux Magazine content is made possible with support from readers like you. Please consider contributing when you've found an article to be beneficial.
---