Issue #107 / Oct 2009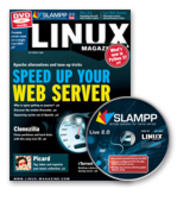 The future of Linux updates
Constant security updates can give you peace of mind, but the inconvenience of download – install – reboot can be a pain. We show you how to avoid downtime while staying up to date.
Web-based server configuration with Webmin
Manage your Linux server system with the easy and flexible Webmin tool.
Sharpen images with Perl and GIMP
How do you sharpen a digital image? A short introduction to the principles and a Perl plugin for GIMP help amateur digital photographers polish their snapshots in a professional way.
Manage your music collection with Picard
Getting that iTunes experience requires more than just Amarok or Rhythmbox. It also requires planning – especially if you went digital before the Linux desktop had audio players.
Turn Firefox into a research tool
We show you how Zotero can turn Firefox into the ultimate research tool.
Getting started with Adobe AIR for Linux
With the advent of Adobe Integrated Runtime (AIR), Flash applications now run on the desktop, any desktop – yes, even Linux.
Grasping the basics of Bash
Even experts forget the fundamentals. Learn more about – or get a refresher on – the basics of Bash.
Future-proofing your business
maddog examines why students should use free and open source technologies when learning the basics of computing.
OSCON 2009
Moving from Portland to the hustle and bustle of the Silicon Valley, OSCON, the mother of all Open Source conferences, offered a wide variety of tutorials and presentations to 2,800 attendees.
Visit Our Shop
Direct Download
Tag Cloud