OpenArtist bundles programs for creative types
Modern Art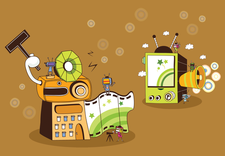 The openArtist Ubuntu derivative is geared toward artists and other creative types; however, it should also be interesting to conventional users.
The LTS versions of Ubuntu are very popular with developers of derivative distributions. On one hand, the stable basis makes good hardware support possible. On the other hand, the Ubuntu repositories make available a huge supply of software. Therefore, it is not surprising that the developers of openArtist [1] rely on the Ubuntu LTS 12.04 foundation.
After booting a Live system or installing and booting on a hard drive (see the "Installation" box), the first thing you see is a rather somber theme (Figure 1). The creators of the openArtist distro do this intentionally, because the presence of bright and colorful elements are distracting and can be deceptive to the eye during image processing. It is no accident that Darktable [2] and other RAW converters rely on a similar color scheme.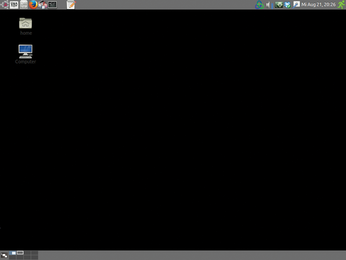 Figure 1: On startup, openArtist greets you with a drab Gnome theme. You can change the theme details via the Gnome Tweak tool.
On the SourceForge servers [3], you will find an ISO image for the ready-to-install openArtist Live CD – a 64-bit version of the distribution only. Typing in unetbootin or usb-creator-gtk lets you install the image on a USB stick.
Gnome 3, in the classic Gnome 2 look with panels, serves as the user interface. Alternatively, it is possible to use Openbox and, in theory, all desktops that are supported by Ubuntu. The developers of these environments have not made all of the additional features available, so some of the information and conveniences remain unusable. The Live system will log you in as hero with the identical password. Ubiquity also automatically creates an account for this user when installed on the hard drive.
Exceptional Diversity
The strengths of openArtist lie both in the comprehensive collection of programs designed for creative work in graphics, video, and music and in the multilayered menus that grant easy access to tools and utilities (see Figure 2).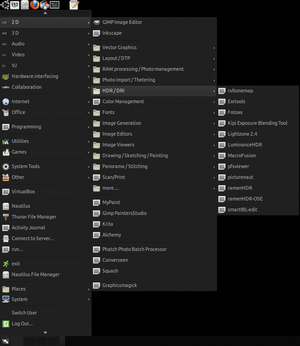 Figure 2: OpenArtist features multilayered and well-arranged menus. It is possible to find a matching tool for almost every creative task.
Here, openArtist breaks with the old Ubuntu principle of having a single tool for each task. Instead, each task has several tools, each with its own set of features. As a result, you can compensate for the shortcomings of one tool with the help of another.
Of course, not all relevant software packages can possibly be loaded onto one CD, so the developers have chosen a different method. Under /opt/, they made most of the programs available only as scripts that then download whatever is missing by means of apt-get or other procedures like wget. These programs start automatically once the installation is successful.
This method works very well in most cases. Only a few of the programs need to be fixed up manually. The developers have expanded the concept to such an extent that they have also integrated freeware or demo versions of Windows programs that run on Wine. Likewise, Adobe Air programs are supported in openArtist. Some sensible pre-configurations of installed programs significantly influence the usability of the distribution, although improvements are still possible.
Opulent Menu
Figure 2 provides an overview of the existing software found under the Main Menu, which is the leftmost icon in the top panel. The 2D and 3D menus combine typical graphics programs with related tools. In addition to the recorders Audacity and Ardour, the Audio menu option contains numerous tools to create and modify sounds and tones. Exactly the same applies to Video, where pretty much everything that has to do with video software has been gathered together, including the multimedia programming language Processing, which has been enhanced with practical examples.
The Hardware interfacing option contains programs that make it possible to use special hardware like joysticks, graphical tablets, or Arduino boards. Under DomotiGa you will find software developed for home automation. Programs that are used for data exchange and distributed processing are assembled under Collaboration. Aside from Dropbox, you will find versions of the editors Gobby and AbiWord, as well as FreeMind, Gnote, and NixNote.
The next icon to the right is the Preferences menu, which contains almost as many entries as the Main Menu. The menu items here are used to configure the environment or the installed programs, and you will also find PhotoRec and Foremost and tools to back up and recover data. The Tuning option includes, among other things, items to install extended kernels and the ZFS filesystem, as well as several tools similar to Top.
Security/Privacy offers several firewalls, Tor, and encryption software. Under Special you have direct access to the diverse configuration files and logfiles. This option is especially interesting for beginners, who are learning how to locate and modify settings. The truly excellent and comprehensive menu descriptions for the preconfigured Gnome interface are a great help for finding the correct tool (Figure 3).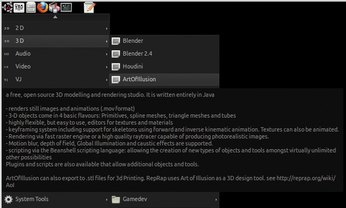 Figure 3: Under Gnome, openArtist has comprehensive descriptions of pre-installed programs, although not for alternative desktop environments.
Nuts and Bolts
The Gnome menu configuration program Alacarte shows what hides behind the individual menu items. Clicking the Properties button after selecting a tool reveals the script used to run the program. Scripts are found for the most part under /opt/ (Figure 4, left) and can be tailored as necessary.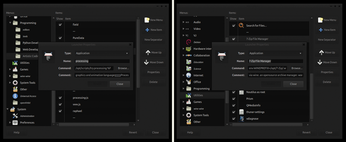 Figure 4: Alacarte displays and allows you to edit menu entries. OpenArtist also integrates Windows programs by means of Wine (right).
The developers rely on the greatest possible variety of repositories. For example, openArtist integrates PPAs from Karmic to Precise and also builds in quasi-rolling releases. This approach also makes it possible to use many program versions that are newer than those originally provided by Ubuntu LTS. In this way, openArtist offers a fairly up-to-date Kernel 3.8.0 under the variants Generic and Lowlatency, as well as signed variants. For example GIMP version 2.8.6, which has just recently appeared, is included.
comments powered by

Disqus
Visit Our Shop
Direct Download
Read full article as PDF: