Sparkling gems and new releases from the world of Free and Open Source Software
FOSSPicks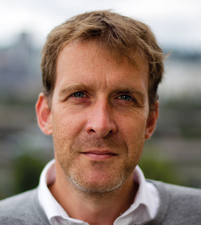 Graham tears himself away from updating Arch Linux to search for the best new free software.
Web Browser
QupZilla 2.0.1
Mozilla Firefox does a wonderful job, and it's a fundamental part of the future of the open web, but that doesn't mean you can't look at alternatives. Chromium, for example, is a legitimate open source version of Google's Chrome, even when Google's motivations toward the web are uncertain, and I'm happy to see Gnome's Epiphany is now being actively developed again. My current favorite is Qutebrowser, because navigating the web with Vim shortcuts is both addictive and productive. The only hitch with Qutebrowser is that the switch to the superior QtWebEngine rendering engine is still in development – Qutebrowser's lead developer has just started a Computer Science course at the University of Applied Sciences in Rapperswil, Switzerland, which means that until the release of Qutebrowser 1.0, we're still looking for the perfect QtWebEngine browser. And QupZilla is a major contender.
What I really like about QupZilla is that it integrates so well with your chosen desktop, whatever that may be. It adopts themes and icons and provides native notification, helping it to feel just like a Gnome, KDE, or Xfce desktop application. This is particularly important for KDE users, because there's not a particularly strong Qt-based browser that can compete with the GTK-based Firefox. QupZilla gets very close.
There is a very capable bookmarks manager, an overly comprehensive preferences pane, a full history overview, and even built-in adblock. Extensions include the wonderful Greasemonkey, KWallet, mouse gestures, and Flash cookie management. Although I don't want to emphasize this feature, it also includes Flash support for those vestiges of the Internet that still need this ancient artifact. I even appreciate the way the developer has defaulted to Duck Duck Go by default and the inclusion of a speed dial for quick web access.
Quick may even be QupZilla's best feature. Version 2.0 was updated to use Qt5 rather than Qt4, not only bringing much better web compatibility and rendering speed, but also all the many major improvements that have been made to Qt5 over the years. Despite offering nearly every option you could need for a browser, it still feels much lighter on your system. A non-scientific test showed that it took almost half of Firefox's 840MB of RAM when showing the same number of tabs with the same content, for example, and its rendering and page loading feels equally snappy. You do lose Firefox's add-on compatibility, and, despite its name, the project has nothing to do with Mozilla, but I'm happy with that compromise for 99 percent of my browsing needs, especially on older hardware.
QupZilla 2 is the closest thing to an open source alternative to Firefox I'd be prepared to recommend to users hitting the performance limit with Firefox, with the hope they'd still feel they were using a current generation browser, which means this release and its subsequent updates make it a major success.
Project Website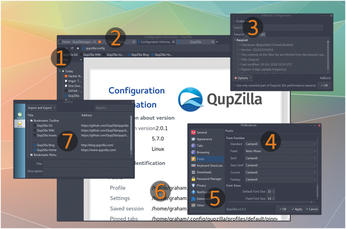 1. Panel views. Bookmarks and viewing history are embedded within the main UI. 2. Tabbed view. Tabs appear above the URL, although everything is configurable. 3. Adblock. Stop adverts loading with integrated adblock. 4. Preferences. Dozens of options for fine-tuning both the performance and the operation of QupZilla. 5. Extensions. Several Mozilla extensions have been ported; plus, you can create URL rules. 6. QtWebEngine. Great modern rendering with brilliant desktop integration. 7. Windows. Break out panels into the surrounding space.
Boot Editor
comments powered by

Disqus
Visit Our Shop
Direct Download
Read full article as PDF: