NEWS
NEWS
Updates on technologies, trends, and tools
GitHub Announces Open Source Friday Program
After Linux, Git is the second major contribution of Linus Torvalds. Git has become a global phenomenon with GitHub, the planet's largest repository of open source projects. Even Microsoft has moved the source code of Windows to a private GitHub repository. Companies like Google have shut down their own code-hosting platforms and moved their code to GitHub.
GitHub is now becoming active in "promoting" the open source development model. The company has announced celebrating every Friday as Open Source Day.
Mike McQuaid, a senior software engineer at GitHub wrote in a blog post, "Open source software powers the Internet. Anyone using a computer uses open source, either directly or indirectly. Although it has become the industry standard, getting involved isn't always straightforward."
McQuaid disclosed that the company has been running a program internally for the last three years in which they encourage employees to work on some open source project every fourth Friday of the month. Now, they are opening up the program for anyone to get involved with open source.
"Open Source Friday isn't limited to individuals. Your team, department, or company can take part, too. Contributing to the software you already use isn't altruistic – it's an investment in the tools your company relies on. And you can always start small: spend two hours every Friday working on an open source project relevant to your business," wrote McQuaid.
Source: https://opensourcefriday.com/
Blog Post: http://mikemcquaid.com/
System76 Announces Their Own Distro,Pop!_OS
System76, the hardware vendors that sell Ubuntu PCs, has announced their own Linux distribution called Pop!_OS.
Pop!_OS is based on Ubuntu and uses the Gnome stack and customized themes and extensions. An alpha version of the distribution is available for testing, and the final release is expected in October. At the moment, it seems like a customized version of Gnome, but it's expected that System76 will be doing more tweaking and fine tuning of the distribution to offer a more polished, out-of-the-box experience on their hardware.
The distro seems to be a response to the recent Canonical decision to stop pursuing the consumer PC segment and focus purely on enterprise. The company stopped its in-house desktop project Unity and laid off engineers who were working on those projects. The company decided to go back to the stock Gnome Shell experience. Since stock Ubuntu offers a very vanilla Gnome experience, System76 wants to offer an experience that they think is well suited for their customers.
In an interview, System76 Community Manager Ryan Sipes told us that the inspiration behind Pop!_OS reflects where the company has been heading for a while.
"We receive a lot of great customer feedback and are really attuned to our customers' needs. We've been focusing our engineering effort on helping our customers achieve more and have a fantastic computer experience. This desire to create the best machines for our customers has driven our recent moves into manufacturing, and those same goals are also behind tailoring a beautiful software experience that is Pop!_OS. Our customers are creators: engineers, developers, 3D modelers, and makers. The work that goes into Pop!_OS will serve them and their needs," said Sipes.
System76 is also planning on bringing hardware design and manufacturing in-house, which aligns very well with the plans to work on their own distribution to offer an Apple-like seamless integration between hardware and software.
You can download Pop!_OS Alpha from their download page (https://system76.com/pop).
Linus Torvalds Talks About His Motivation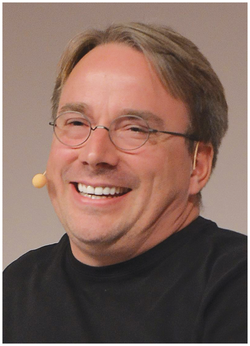 CC BY-SA 4.0
The Linux Foundation took LinuxCon, one of the biggest open source events to one of the biggest economies, China. One of the biggest highlights of the event was a discussion (https://www.linux.com/blog/event/lc3-china/20176/6/linus-torvalds-explains-how-linux-still-surprises-and-motivates-him) between Linus Torvalds and VMware Head of Open Source, Dirk Hohndel, who also happens to be Torvalds' closest friend and fellow scuba diver.
One of the things that Torvalds said continues to impress him is that things continue to improve. "There are things we haven't touched for many years, then someone comes along and improves them or makes bug reports in something I thought no one used," he said. It allows Linux to continue to support very old and basic things that people still care about and use.
Talking about his motivations, Torvalds said that he really likes his job. "I like waking up and having a job that is technically interesting and challenging without being too stressful, so I can do it for long stretches; something where I feel I am making a real difference and doing something meaningful not just for me."
It also seems that despite doing Linux since 1991, he is not bored and has not burned out. He said that once in a while, he does take a break, but every time he takes longer breaks he gets bored and looks forward to going back to doing what he does best – the Linux kernel.
When asked about the future of Linux leadership, Torvalds said that the process they have in place has been working fine for the last 25 years. He agreed that even if they don't have enough maintainers, the group that they do have is very strong, and it continues to grow at a steady pace: "… as these maintainers get older and fatter, we have new people coming in. It takes years to go from a new developer to a top maintainer, so I don't feel that we should necessarily worry about the process and Linux for the next 20 years," said Torvalds.
comments powered by

Disqus
Visit Our Shop
Direct Download
Read full article as PDF: