openSUSE community gathering
Face to Face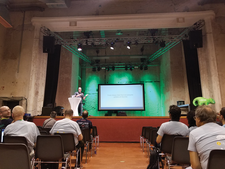 Swapnil shares some highlights of openSUSE Conference 2017.
Nuremberg – the city of castles, museums, and the best sausages in the world – is also home to SUSE and openSUSE. This year the city of Nuremberg hosted openSUSE Conference 17 from May 26 to May 28. I attend many conferences, but this was my first openSUSE Conference.
It reminded me of FOSDEM, which I used to attend when I lived in Brussels. This year's conference featured talks, workshops, BoF sessions, and some cool hardware demonstrations.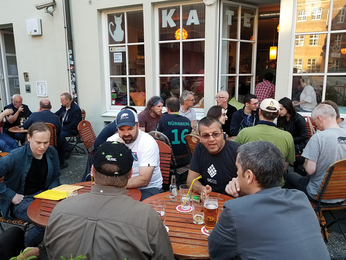 Douglas DeMaio, Corporate Communications at openSUSE, has been running the show since he joined SUSE in 2014. In an interview, he said that the primary goal of openSUSE Conference is to bring the openSUSE community together and give them an opportunity to get face to face.
"But we are also open to other projects coming in, as we are part of a much bigger open source ecosystem. So, we encourage and sponsor people from different projects," he said.
This year many notable open source projects participated in the conference including Free Software Foundation Europe (FSFE), Nextcloud, ownCloud, Snaps Canonical, AppImage, KDE, GNU Health, and Gnome. SUSE was the primary sponsor of the conference along with ARM, MySQL, Fedora, and ownCloud. Teamix donated the WiFi infrastructure to the attendees.
DeMaio said that the conference has been extremely productive and resulted in many effective collaborations and projects. One example is KDE's LTS release. During a previous openSUSE Conference, the openSUSE community sat down with the KDE community members and expressed their concerns about keeping up with fast moving KDE software on Leap. The two communities reached a solution where KDE announced their LTS release so that Leap users can continue to use a stable version of KDE. Another notable example is collaboration between ARM and the openSUSE community that lead to the first 64-bit operating system for Raspberry Pi.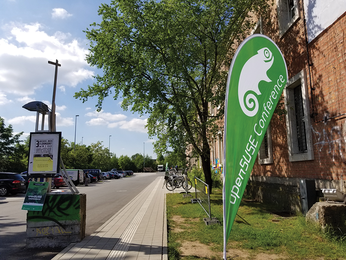 The Sessions
The first keynote of the conference was delivered by FSFE president Matthias Kirschner, who talked about the lessons learned from Munich's LiMux deployment, a project that is seen as an ideal use case for the open source community. He talked about the challenges that the free software community faces when dealing with public administration.
OpenQA is one of the gems of the openSUSE world, which is now also being used by the Fedora community. Stephan Kulow, openSUSE release manager, gave an interesting presentation on how OpenQA works. Another interesting talk was a session by Richard Brown, chairman of the openSUSE Board, where he talked about his favorite topic – how rolling releases are the future of Linux distributions.
Thorsten Kukuk, Distinguished Engineer, Senior Architect of SUSE, talked about a new container-based distribution called Kubic, which is a free of cost community version of SUSE MicroOS (Container as a Service Platform – CaaSP). The project is available on GitHub and is available for testing and feedback.
Thomas Hatch, CTO of SaltStack, delivered a very funny talk (although his jokes failed to crack up the German audience) around why he moved from Arch Linux to openSUSE Tumbleweed. He praised Tumbleweed for how well tested and "beautiful" it is and argued that the six-month release cycle used by many distributions is waste of everyone's time. He stated that they needed to install an operating system for a small cloud deployment and ended up deploying openSUSE.
Another highlight of the day was a cool demonstration of an openSUSE-powered robotic vehicle by Simon Lees, Senior Software Engineer at SUSE. He used open source components including ODROID-C1 and AlaMode, running openSUSE Linux.
As someone who covers containers and cloud, I was interested in a talk delivered by Wolfgang Engel, Operations Engineer at SUSE Linux Products GmbH. He talked about Package Hub, a place to offer open source applications to SLE customers. In an interview, Engel said that, with the popularity of Docker containers, there is a possibility of also offering containers via Package Hub.
The next morning, I took the subway and walked to the venue. Hatch was back on stage, and he delivered a keynote speech about new concepts in the data center and how to move beyond the old patterns of configuration management and infrastructure to what's required to survive in a world of distributed systems.
There were many talks around YaST, but the most interesting talk was by Simon Peter, the creator of AppImage. He delivered a thought-provoking talk about the benefits that openSUSE technologies like Open Build Service can bring to application developers. Richard Brown has been extremely critical of AppImage-like solutions, but after listening to Peter's talk even Brown changed his mind and told me that he is open to using AppImage-like solutions.
Zygmunt Krynicki, Technical Lead in UES Commercial Engineering at Canonical, talked about bringing the competing app distributing and packaging format Snaps to openSUSE.
Nextcloud founder Frank Karlitschek talked about data breaches in open source cloud solutions, in the context of increasing attacks by hackers and state sponsored agents. His focus was on how open source platforms like openSUSE and Nextcloud can empower users in ensuring security and privacy of their data.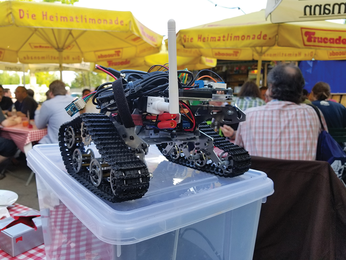 As a display of healthy competition, the conference also hosted Holger Dyroff, VP Sales & Marketing, Co-Founder at ownCloud, who delivered a thought-provoking talk about the need of product management at open source projects. Dyroff later said that the talk actually led to asking more questions than answering them. There is a tight-rope walk between open source projects and products based on them, and Dyroff tried to walk that rope.
On the last day of the conference Aleix Pol, Vice President at KDE eV Board, talked about how the KDE project gets things done; he gave a glimpse of the process that the KDE community has in place to ensure timely releases.
There was also a lot of action happening outside the sessions where people were hanging out in the beer garden and talking about projects and work.
This was a very productive and enjoyable event, and I am looking forward to the next openSUSE Conference. That event is tentatively being planned to take place in Prague, which is the second biggest hub for SUSE and openSUSE outside of Nuremberg.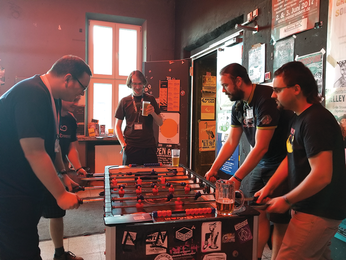 comments powered by

Disqus
Visit Our Shop
Direct Download
Read full article as PDF: