FOSSPicks
Computer-aided design
SolveSpace
The 3D printing revolution has brought many more users to the world previously dominated by engineers: computer-aided design (CAD). It's a world where software seldom moves rapidly: Many applications like LibreCAD, QCad, FreeCAD, or the proprietary VariCAD, would see intermittent releases, often over a period of years. 3D printing has upped the pace on some of the projects, and that's true of SolveSpace, which has just been awoken from its slumber to add high-DPI support. SolveSpace doesn't usually get mentioned alongside other CAD applications, but it should. SolveSpace, as its name implies, is a parametric modeler, as opposed to a direct modeler. Parametric means the relationship between each element is mathematical, rather than hand drawn, despite mouse or controller manipulation of the various points and lines in your model during the design phase. The result is exacting and formulaic designs that are ideal for manufacturing.
There are too many important features to list, but objects can be created using lines, rectangles, datum lines, and points. You can draw curves, arcs, and scalable vector text, which can be saved, too. Solid models can then be extruded and processed with boolean operations before measuring factors such as volume or internal area. Its best feature is the property browser, which lists all the items in your scene and allows them to be selected and then manipulated as groups. Because it's parametric, this manipulation is mostly visual, as you decide how grouped elements are shown, from the line types that connect them to the way normals are displayed. It's always clear and easy to see what's going on and to get a good insight into your model's construction. And it now looks great on high-DPI displays, too!
Project Website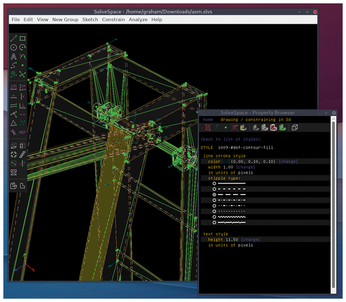 Design your own objects and send them to a laser cutter!
DX7 emulator
comments powered by

Disqus
Visit Our Shop
Direct Download
Read full article as PDF: