NEWS
NEWS
In the news: Linux Mint Drops Snap; Lenovo Upping Their Linux Support; LPI Launches FOSSlife Website; Linux Apps on Windows; and Tuxedo Computers Joins the Ryzen Bandwagon.
Linux Mint Drops Snap
In a move that surprised many within the Linux landscape, Linux Mint (one of the most popular desktop distributions) has decided to drop support for the universal snap package system (https://snapcraft.io/).
What are snap packages? Simply put, they are a way to combine an application and all of its dependencies into a single package. By doing this, an application can be installed on any supporting operating system, regardless of desktop or default package manager.
The idea of leaving behind snap packages began in 2019, when Clement "Clem" Lefebvre said, "When Snap was announced it was supposed to be a solution, not a problem." Clem continues, "It was supposed to make it possible to run newer apps on top of older libraries and to let third-party editors publish their software easily towards multiple distributions, just like Flatpak and AppImage."
That sentiment came to a boil recently, when Clem said, "… in the Ubuntu 20.04 package base, the Chromium package is indeed empty and acting, without your consent, as a backdoor by connecting your computer to the Ubuntu Store." In other words, Clem makes the claim that if you issue the command sudo apt-get install chromium -y, instead of it installing the .deb package, it instead installs the Chromium snap package. To this, Clem says, "Applications in this store cannot be patched, or pinned. You can't audit them, hold them, modify them or even point snap to a different store. You've as much empowerment with this as if you were using proprietary software, i.e. none. This is in effect similar to a commercial proprietary solution, but with two major differences: It runs as root, and it installs itself without asking you."
For users who want to continue with Mint, and would like to use snap packages, you can always install snapd after installing Linux Mint 20. But don't expect much in the way of app store integration, like that found in Ubuntu.
Original source: https://blog.linuxmint.com/?p=3766
Lenovo Upping Their Linux Support
PC giant Lenovo is bringing serious support to Linux … big support. The entire line of Lenovo workstations (minus the IdeaPad) will now be fully certified to work with Linux. That's not all. Lenovo will also start selling the entire line of ThinkStation PCs and ThinkPad P series laptops with either Ubuntu LTS or Red Hat Enterprise Linux pre-installed.
Lenovo will also include full web support (https://techtoday.lenovo.com/ww/en/workstations/linux) and add dedicated Linux forums (https://forums.lenovo.com/t5/Linux-Operating-Systems/ct-p/lx_en#link=%7B) into the mix.
For many within the Linux community, this could be the biggest piece of news to develop for the open source operating system. Lenovo adding their support behind Linux not only gives consumers far more options for Linux hardware, it could easily help companies to realize the open source operating system is a viable option for the desktop. And with Lenovo also adding their drivers into the upstream kernel, all of their hardware will work with Linux out of the box. No more tweaking or compiling to get features like Wi-Fi, sound, and fingerprint readers to work.
Of this move, Rob Herman, General Manager, Executive Director Workstation & Client AI Group, said, "While many users prefer to customize their own machines – either on hardware without an OS or by wiping an existing client OS, then configuring and installing Linux – this can raise uncertainty with system stability, restricted performance, compatibility, end-user productivity and even IT support for devices." Herman added, "Now that these users are making their way out of the proverbial shadows and onto the enterprise floor, the demand is high for an out-of-the-box solution that removes the barrier for deployment of enterprise-grade hardware within a Linux software ecosystem."
Expect Lenovo Linux preinstalled PCs and laptops to be available for order this month (June, 2020).
Original source: https://news.lenovo.com/pressroom/press-releases/lenovo-brings-linux-certification-to-thinkpad-and-thinkstation-workstation-portfolio-easing-deployment-for-developers-data-scientists/
LPI Launches FOSSlife Website
Linux Professional Institute (LPI) has launched FOSSlife, a website for those "who care about the FOSS community and want to follow the trends, tools, projects, programs, and people who define the FOSS experience."
The new website will offer recent news and articles on FOSS technology and advocacy (https://www.lpi.org/articles/welcome-fosslife-new-web-magazine-born). FOSSlife is intended to be a destination and resource for experts as well as those just starting out on their open source journey.
"It is our mission to promote the use of free and open source by elevating the people who work with it. FOSSlife fits perfectly into this mission, as it helps us share, bundle, and disseminate knowledge about free and open source software and inspire people who are searching for their own approach in gaining this expertise," said G. Matthew Rice, Executive Director of the Linux Professional Institute.
You can check out the new site at https://www.fosslife.org/.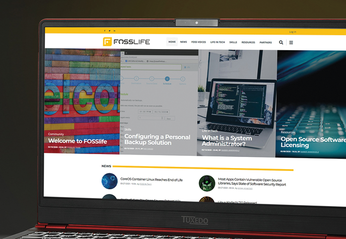 comments powered by

Disqus
Visit Our Shop
Direct Download
Read full article as PDF: