Logseq links thoughts like synapses
Networked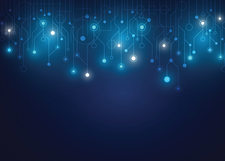 Logseq, a knowledge database note-taking app, emulates its better-known competitor Roam Research and even outperforms it in some instances.
If you are looking for an open source note-taking app, the Internet abounds with options ranging from simple, plain text apps to ones that let you display a wide variety of media. Some users, who consider special applications superfluous, find editors such as Vim, Kate, or gedit totally up to the task. Fans of open source alternatives to the proprietary top dog Evernote, currently in beta for Linux [1], want apps that offer advanced functions such as displaying images, playing back audio and video, and viewing tables or web content. And then there are proprietary networked knowledge bases such as Roam Research and Obsidian.
Logseq [2], licensed under the AGPL 3.0, offers an open source alternative to Roam Research and Obsidian. It describes itself as an open source knowledge management and collaboration platform that puts privacy first. In this article, I put Logseq through its paces to see how it compares to its proprietary competitors (see the "Alternatives" box).
Obsidian, released under a proprietary license, is the pioneer of networked knowledge storage. In the open source community, Roam Research [3] has a strong presence. It costs around EUR160 (~$157) a year and stores data in the cloud. Logseq covers a large part of the functionality of Roam Research and even outperforms its role model in some respects. If you rely on team capabilities, you will want to take a look at Notion [4]. Although Notion exclusively works in the cloud, it offers client-side, end-to-end encryption.
Logseq at Work
Logseq goes far beyond simply storing notes. Logseq saves notes written in Markdown or Emacs Org mode [5] as plain text files, making the stored data universally usable. In addition, Logseq supports tasks, to-do lists, and journals. It manages entries in blocks, which you can link and visualize as a mind map using the Graph view to connect ideas. Logseq distinguishes between Page graphs for single pages and the entire graph for all entries.
In addition to Emac Org mode, Logseq cites TiddlyWiki [6] and Roam Research as its influences. Logseq can be connected to the Excalidraw [7] virtual whiteboard and the Zotero [8] literature manager (you must be working in Zotero for the connection to work).
Local Knowledge Management
Logseq can be used as a web service or as a desktop application (Figure 1) on Linux, macOS, Windows, and soon officially on Android. Logseq's underlying Electron framework [9] results in the application weighing in at around 150MB. Such a large chunk of disk space is a potential disadvantage, even for a tool with Logseq's functionality.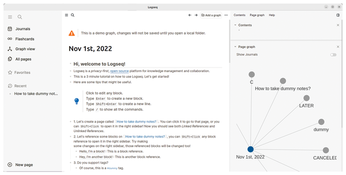 Figure 1: The Logseq desktop app is similar to the web version. The sidebar on the left displays the hamburger menu, while the sidebar on the right shows content, graphs, and help (both sidebars can be hidden).
Logseq is quickly deployed, either as an installation from the website, a Flatpak, or an AppImage (see the "FUSE" box). Logseq saves all your entries as separate files on your hard disk, where they remain under your control (Figure 2). Whether you run Logseq as a web app or as a locally installed application, the first order of the day is to create a local folder in your home directory to store all your files. You can specify the same home directory for both the web version and the desktop application, which means that changes to the web version are replicated locally. Logseq is not case sensitive; Recipes and recipes will both take you to the same page.
When you launch the AppImage under a recent Ubuntu 22.04 LTS, the system reports that the filesystem in userspace (FUSE) is missing. This message is typically misleading, because modern distributions have FUSE as part of their default installation. The only thing missing is an older library as an interface. If you mistakenly run the command:
sudo apt install fuse
the package manager will remove a number of other important packages. Instead, just install the libfuse2 package with a call to
sudo apt install libfuse2
Logseq now launches without complaint. For other distributions, the AppImage wiki explains how to install the missing packages [10].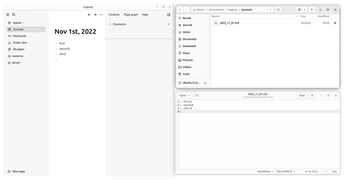 Figure 2: Each page or journal entry is saved as a text file in Logseq. You can open and edit the entries with a Markdown app or any text editor.
If you want to type without distractions, Logseq comes up fullscreen with sidebars added to the left and right if needed. In the Settings menu (accessed by clicking on the ellipsis icon in the main panel), you can set editor preferences (Figure 3), choose a light or dark page background, enable Logseq's experimental encryption feature, or link Logseq to Zotero, among other options. From the left sidebar (accessed by clicking on the hamburger menu), you can navigate between Journals, Flashcards, Graph view, and All pages, as well your favorites or recently viewed items. The Flashcards option lets you create flashcards for revision purposes (Figure 4). To add a new page, click the plus icon at the bottom of the screen.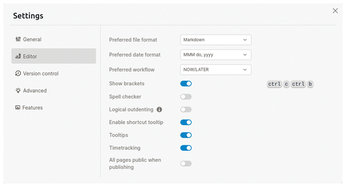 Figure 3: In the Settings | Editor, you can set preferences for how your editor works.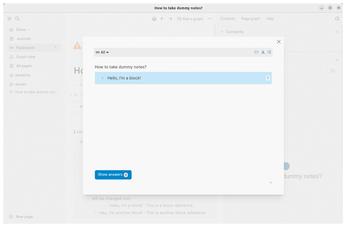 Figure 4: Logseq supports flash cards for revising content. You can create cards from scratch or extract them from previously created blocks.
Markdown or Org Mode
While writing, you can format the text with Markdown immediately. After pressing the Enter key, you immediately see the formatted results in the same window and not in a separate one like many Markdown apps. Each time you press Enter, the editor creates a new bullet point, which you can tab in as needed. A bullet point with text is known as a Block in Logseq. Pressing Shift + Enter creates a new line in the same block. Under Settings | Version Control, a Git-style feature lets you view and restore previous versions of the content via File history (Figure 5).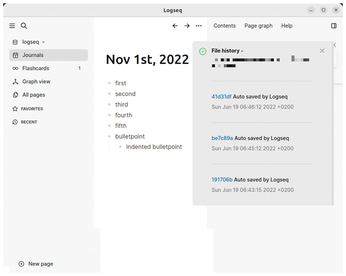 Figure 5: A Git-style feature supports versioning and reverting to previous versions of the entry.
If you enter a slash in a block, a context menu will open with a long list of options for formatting the block including adding links, images, and a to-do entry. The to-do entry creates a box at the beginning of the block entry that, when checked, crosses out the text and marks it as done.
Right-clicking on a bullet point opens a list of formatting options, including color formatting, converting the block into a template, and more. Among other things, you can move the text located to the right of a bullet point to the right sidebar and keep multiple notes in view at the same time. If you left-click one of the bullets, you will only see the selected block, which means you can edit it without distractions. Logseq lets you manipulate blocks in many ways. Among other things, blocks can be moved, expanded, and collapsed (Figure 6).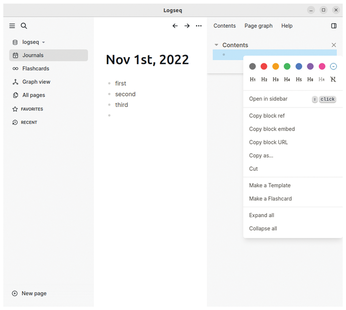 Figure 6: Right-clicking on a block's bullet point opens a list of formatting options. You can color code the block, convert it to a template, open the entry in the sidebar, copy its references, or create a flashcard with its content.
Logseq also lets you include links to PDF documents. Clicking on a link opens the document in a separate window and lets you highlight text passages, which the program then adopts as references in the notes. If you click on a reference of this type, the PDF then opens at that location.
comments powered by

Disqus
---
Support Our Work
Linux Magazine content is made possible with support from readers like you. Please consider contributing when you've found an article to be beneficial.
---