Preventing computer eye strain
Sight Saver
If you work or study from a home office, you probably sit at your computer for hours without a break. Safe Eyes reminds you to take regular breaks and take care of your eyes.
At first glance, working from home seems very convenient. You save time on your commute, money on transportation costs, and avoid overcrowded buses or trains. However, occupational safety often falls by the wayside at home. Most likely, you don't have an ergonomic workstation, and you don't turn away from your screen for a short conversation with a coworker or leave your desk for a meeting on another floor or adjoining building. Instead, your gaze remains fixed on the screen for hours.
At home, the responsibility for taking breaks and evenly spacing out your work falls entirely into your hands. You can use a Pomodoro timer [1] to regularly remind you to take breaks. However, if you continue to stare at the screen during your break – maybe surfing the web or watching a movie – you aren't giving your eyes time to recover.
If you find it difficult to move away from your screen, you may want to add Safe Eyes to your break time routine. An open source application developed for the Gnome desktop, Safe Eyes blacks out and locks your screen for a few seconds for each break (Figure 1), forcing you to actually stop working. Based on recommendations from medical experts, Safe Eyes implements several shorter breaks rather than a few longer ones.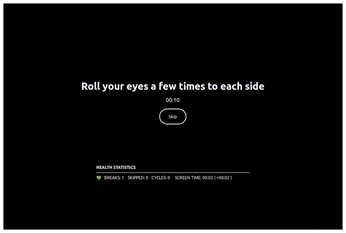 Figure 1: Safe Eyes reminds you to look away from the screen at regular intervals.
Installation
Safe Eyes is not yet included in the package sources of the popular distributions, but the developers do provide installation instructions for them on both their website [2] and their GitHub page [3]. Safe Eyes offers a PPA for the simplest possible installation on Ubuntu (Listing 1). On Arch Linux, Safe Eyes can be installed using the safeeyes package from the Arch User Repository.
$ sudo add-apt-repository ppa:slgobinath/safeeyes
$ sudo apt update
$ sudo apt install safeeyes
Safe Eyes starts automatically in the background when you log in to your desktop. The startup behavior can be managed in Gnome using the Gnome Tweak Tool (in the application menu below Optimizations) by clicking on the Startup Applications tab. If you select Safe Eyes from the application menu, the program opens its settings. You then have the option of configuring the interval between breaks as well as their length. You can also specify whether breaks can be postponed or skipped (Figure 2).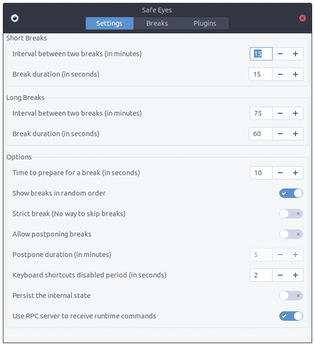 Figure 2: Configuring the individual break times in the Safe Eyes settings.
Respite for the Eyes
In the Breaks tab, you define the breaks, which are usually selected at random. Safe Eyes distinguishes between short breaks of 15 seconds (every 15 minutes) and longer breaks of 60 seconds (every 75 minutes). You can adjust or delete the breaks entered in the standard configuration based on your preferences (Figure 3). If you make a mistake while configuring, you can reenable the application's default settings by clicking on the eye symbol in the top left corner of the application window and selecting the Reset menu item.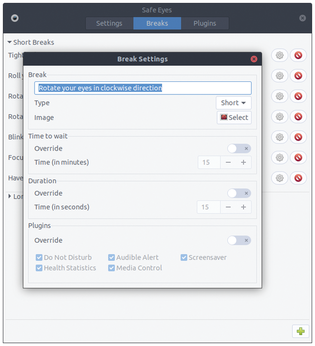 Figure 3: You define what the break and distraction should look like in the Breaks tab.
In the Plugins tab, you can enable further functions. For example, the Do Not Disturb plugin will not interrupt the display if a program is running in fullscreen mode, for instance, when playing a video (Figure 4). You can also define other programs here that you do not want Safe Eyes to interrupt under any circumstances. The window titles are determined by the command
xprop | grep WM_CLASS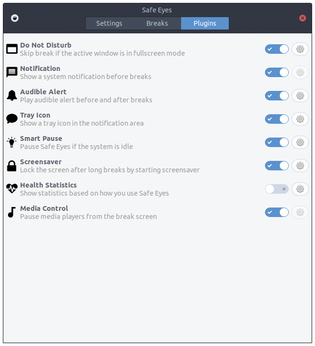 Figure 4: You can extend Safe Eyes' functionality through plugins. Here, Health Statistics was not enabled because the python-croniter package was missing.
followed by a click on the application in question. However, this does not work with Wayland.
Conclusions
Safe Eyes, the Pomodoro timer, or shifting your screen's color temperature to warm in the evening (Settings | Screens | Night mode in Gnome) can help protect your eyes and enable concentrated work over longer periods of time. However, it is ultimately up to you to avoid looking at your cell phone during scheduled breaks. Instead, get up, move around, and let your eyes wander into the distance.
comments powered by

Disqus
---
Support Our Work
Linux Magazine content is made possible with support from readers like you. Please consider contributing when you've found an article to be beneficial.
---