Get involved with LinuxFest Northwest 2011
Feb 08, 2011
For the 12th year, LinuxFest Northwest 2011 is happening April 30th and May 1st.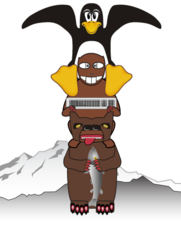 LinuxFest Northwest is a community event, organized by a team of volunteers. Its success depends on participation. We are asking the Free and Open Source Software community to get involved.

*Present* at the Fest on a project that you use or contribute to. Share your experiences with potential users, connect with other contributors, or find collaborators on a new idea. Presentations add value for everyone involved, including you. If you don't want to present, perhaps you know of someone who could. Or if you have something to say that won't take an hour, check out the Lightning Talks session.
*Exhibit* and get your messages to a select audience. Whether you represent a F&OSS non-profit, a college or a company that sells to technical users, the low key exhibits are effective marketing. Exhibitors are a key component of the community.

*Sponsor* LinuxFest Northwest to show visible support for the F&OSS community and receive valuable exposure in return. The Fest attracts attendees from California to British Columbia, and has international recognition. Free admission depends on funding and support provided primarily by sponsors. If your company depends on open source technology (no matter where it is located), please consider an LFNW sponsorship as a way to give back. New this year, individual supporters can pre-pay discretionary Fest expenses online.
More information as well as how to help promote this event can be found on the LinuxFest Northwest Website.
(via the LinuxFest Northwest Press Release)
comments powered by

Disqus

Issue 45_SI: LibreOffice Expert 2022/23 Edition/Special Editions
Buy this issue as a PDF
Digital Issue: Price $17.99

(incl. VAT)